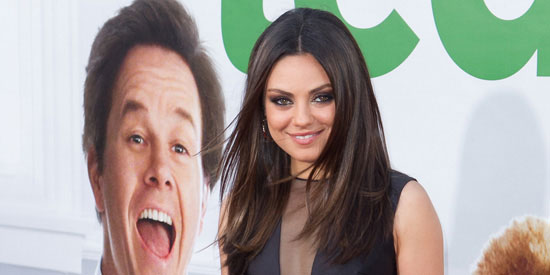 ---
Mila Kunis has been named the Sexiest Woman Alive by Esquire magazine.
The 29-year-old actress—who is currently dating her That 70s Show co-star Ashton Kutcher—has taken the magazine's title for 2012 replacing last year's winner Rihanna.
Mila is pleased to receive the accolade but she insists she doesn't take her pin-up status too seriously.
The brunette beauty told the publication: "What I do and who I am are two different things. And they always will be.
"What happens with people is they lose sight of who they are, and they become either who they want to be or who they are perceived to be.
"But whatever it is, it is no longer who they are. So much of who you are in this industry is based on what that critic says, what that director says, what that actor says.
"People start believing all that, and they become what everybody else wants them to be. And I think that I've consciously separated my two lives."
While Mila—who recently starred in Ted and is the voice of Meg Griffin in hit animated comedy Family Guy—enjoys her career, she plays down her success and always tries to make her parents "proud."


She added: "I love what I do. I couldn't imagine doing anything else. But when I'm done with work, I'm done with work.
"I think that if I bought into the hype, I would lose all sight of who I am, and so much of who I am is what my parents went through and instilled in me. And I never want to lose that. Ever. Because I would be so disappointed if I didn't make them proud."
ADVERTISEMENT - CONTINUE READING BELOW
Mila insists she owes everything to her mother and father after they took her away from her native Ukraine in 1991 during the fall of communism when she was just eight years old.
She explained: "I feel awful talking about it, because my parents should sit down and talk about it. They're the ones who went through hell and back, who gave everything up. I didn't do anything.
"I was eight years old, and I tagged along. And my parents made me feel safe. I didn't make those decisions. So I can't take responsibility for it. Every immigrant has a story."