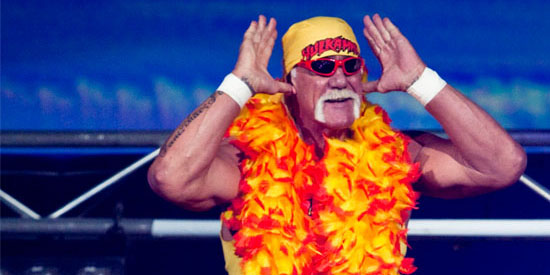 ---
Hulk Hogan's family fear there could be another sex tape featuring him.
The legendary wrestler has warned his ex-wife Linda, son Nick, and daughter Brooke—who now works with him on TNA IMPACT Wrestling—that a black and white clip of him and a mystery brunette released last week may not be the only sex video which he appears in him.
A source close to the 59-year-old star told RadarOnline.com: "Hulk is very concerned a new sex tape could emerge.
"After the first video was leaked he warned Linda, Brooke, and Nick that he could have been caught on camera in the past.
"The family is absolutely mortified their name has been sullied in such a tacky way. They never imagined that Hulk could drag them into such an embarrassing situation."
The woman in the leaked sex tape is allegedly Heather Clem, the ex-wife of Hulk's friend, DJ Bubba the Love Sponge.
She has said she is embarrassed about the whole incident, and has refused to comment on it.
A source told PerezHilton.com: "She thinks it puts her in a bad light—it's not as if Hulk's a hunk and it's a pretty embarrassing moment. What's worse is Hulk's interruptions—stopping Heather when she's performing a sex act to check his cell phone and then admitting he felt like a pig because he ate too much right before after they finished up. The video makes her look like a piece of meat."
ADVERTISEMENT - CONTINUE READING BELOW
The tape appears to have been made in Heather's house on a security camera, while Bubba is referenced in the leaked clip. This raises questions over who could have had access to the tape, other than Heather and Bubba, and who could have released it.
Former WWE star Hulk—real name Terry Bollea—is said to be planning legal action against anyone who attempts to profit from the tape.