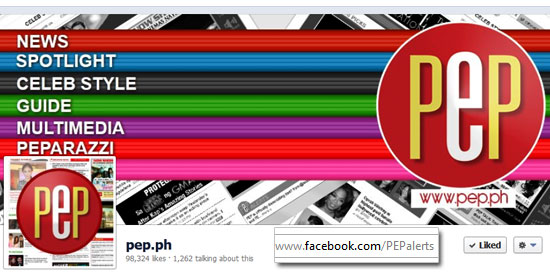 ---
On October 8, 2012, our Facebook account PEP.Philippines and its 98,317 likes disappeared.



Without a trace.



The perpetrators are believed to have deleted it intentionally.



Without a word.



That same day, another entity took control of our Twitter account @scoopbox and its more than 394,000 followers.
Without shame.



They removed all our feeds, scoops, and pictures, and replaced them with tweets on developments about the Cybercrime Preventive Law.



Without remorse.
It's hard to tell if the same person or group is behind the hacking.
But one thing certain: we are not giving up easily on our huge community.
And as a result of conferring with some people in the I.T. field, our Facebook account was restored early this morning.
To those who liked the new PEP.ph, about 255 of them, thank you for your loyalty. We have plans of merging both accounts, so make sure that you like pep.ph (http://www.facebook.com/PEPalerts) as well.



To those who have been helping us propagate our new account @PEPalerts on Twitter, we truly appreciate your efforts.
Lastly, to the people who caused this turmoil, practice what you preach. If you don't consider hacking and cyber-kidnapping illegal, then don't argue about RA 10175 being unconstitutional.
P.S. To reiterate: Follow us on Twitter via @PEPalerts and Facebook via pep.ph http://www.facebook.com/PEPalerts.