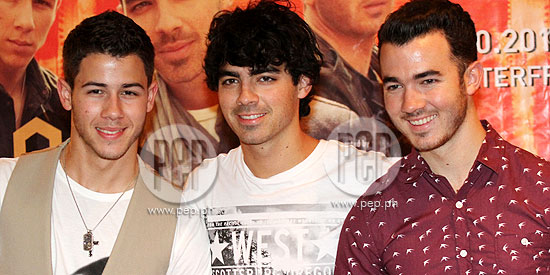 ---
What do Nick, Joe, and Kevin—collectively known as the Jonas Brothers—think of when they hear about the Philippines?
At a press conference turned fan meeting held Thursday, October 18, at the Quezon Ballroom of the Makati Shangri-La hotel, the pop act said they think of the "very long" 14-hour flight from the United States to Manila, as well as the delicious food they never hear the end of.
The trio likewise mentioned the Filipinos, especially their fans, who they find to be "respectful" and "sweet."
The Jonas Brothers, who gained popularity in 2005 via their own Disney Channel show and Disney-produced young adult film Camp Rock, are visiting the country for the first time.
The American boyband, who has captivated an international following with their musical skills and good looks, is due to hold a concert at the SM Arena in Manila on Friday night, October 19, and at the Waterfront hotel in Cebu on Saturday, October 20.
Filipina-American Broadway actress, Anna Maria Perez de Tagle, also a Disney talent, will take on the front-act performance during the two-night concert.
Meeting an entire function room of entertainment writers and fans, the Jonas brothers also talked about the things they mean to accomplish during their stay in the Philippines.
Main vocalist Joe, who is also among the international endorsers of local clothing brand Bench, said he wants to ride a jeepney with his brothers.
He, too, recommended that his siblings try "the ice cream that has every flavour in it."
Joe was, of course, referring to the famous local dessert, halo-halo, which he tasted on his first visit to Manila when he signed with Bench.
ADVERTISEMENT - CONTINUE READING BELOW
Meanwhile, Nick, the group's multi-instrumentalist and vocalist, relayed that their priority is to meet their fans: "The other thing for us is to try and get as much time with the fans while we're here.
"We've never been here before together so we'll spend as much time we can with them and during the show, making them feel as loved as possible is our main priority."
CONCERT. The Jonas Brothers, as promised by Joe, will offer a "fun show" to their supporters.
"We just love to bring a good show hopefully to the crowd and if anything, like New York City, it's going to be something to remember."
Nick said that they mean to lie low from concert gimmicks and other production elements.
"This one is really about the music and connecting with the fans and the audience, giving them a new take on some of the older songs and introducing some new songs that we're really excited about.
"We're playing at least three new songs," he stated.
THREE-YEAR HIATUS. After six years of living the life of musicians and producing four studio albums— It's About Time, Jonas Brothers, A Little Bit Longer, and Lines, Vines and Trying Times— the Grammy-nominated group, went on a three-year break from the music scene.
Nick told the press that the hiatus was an opportunity for him and his brothers to "do things on our own and [to] follow some little passions and dreams" which they mean to draw inspiration from in the process of writing and recording their next album.
ADVERTISEMENT - CONTINUE READING BELOW
He added, "We had to live life, to experience some sort of things, to be able to write about it. We grew up around that time, I think. It perfectly set us up for this phase."
The period was also a significant time for Kevin, who got married in 2009 to girlfriend Danielle Deleasa. He and his wife star in an E! reality show, Married to Jonas.
Kevin spoke, "Personally, I was able to get married and spend a little time off the road. We got married while we were still traveling. It was nice to be able to have a break.
"And then, I learned a lot about life and learned experience… we've been saying recently that we need to live a little bit of life so we could write about it and talk about it.
"It's definitely true. I think it goes for all of us."
NEXT ALBUM. The "Lovebug" singers said that their next album is coming along well and that they have been working on it for the last six months in New York City.
Nick reckoned, "It's been an amazing process...
"When we first started, I think it sounded a lot like our previous works from about three years ago. So, we made it a point to take a little more time."
The group, according to Nick, had to get out some more so they "could come back with different inspirations" and attend to the business aspect of record-producing.
After which, Nick narrated how they "clicked" once again and found themselves achieving the sound that they all mean to create.
ADVERTISEMENT - CONTINUE READING BELOW
"So, we're in a great position to give as much as we want to our fans."
Compared to their previous works, Joe said that the album in the works is "definitely different sounding."
He relayed, "A lot of the lyrics, I feel like are gonna be almost a different change from all we've listened to."
The Jonas Brothers's music take inspiration from Stevie Wonder, Johnny Cash, and The Beatles.