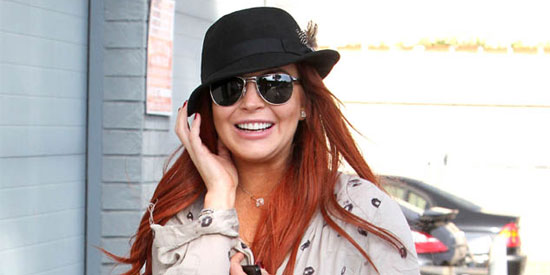 ---
Lindsay Lohan's father staged an emergency intervention on Friday (October 19) which ended in police being called to her Los Angeles home.
Michael Lohan is so worried about his troubled daughter following a number of recent incidents, including a huge fight with her mother Dina and allegedly failing to show up for post-production work on her movie The Canyons this week that he got together a team of people to try to help her.
Michael reportedly believes the Liz & Dick actress—who has had numerous stints in rehab—has fallen off the wagon but he and those he arrived at her home with were reported for trespassing.


Michael fears she is surrounded by bad influences who have encouraged her to resume drinking and drug taking and he is determined to save her from an early death.
He told RadarOnline: "Lindsay needs help. She's around all the wrong people.
"I'm not going to stand for this anymore. She has to get better. I'm not going to watch my daughter die.
"Her whole team has had it with her. All of them want to her to get treatment.
"I will keep putting pressure on her like I did before until she gets help. She is not going to get better without help and she needs treatment and help now."
However, Michael's attempts at an intervention did not go well with Lindsay phoning the police on him and he claimed she also kicked out her boyfriend who tried to reason with her.
ADVERTISEMENT - CONTINUE READING BELOW
He added: "A lot of people tried to stage the intervention with me. She is dating a guy named Josh Chunn and he told me, 'I feel the same way you do. I can't take it. They're destroying her life.'
"Lindsay called the cops for trespassing but they opened the gates for us to come up... When we were leaving, she threw Josh out and we picked him up in the car and he spilled the beans about everything she is doing."
Michael recently blasted the party-loving crowd that Lindsay has been spending time with in New York City and blames their "misguided morals" for her recent bust-up with her mother—where she accused Dina of being high on cocaine before retracting her claim—and her public spat with a Congressional aide.
Venting in an email to a newspaper, Michael wrote: "I am very upset with the crowd around Lindsay. My advice to ALL the negative influences in Lindsay and my other children's lives is, this time, you have crossed the line and bitten off a lot more than you can chew!
"My family will not be subject to your misguided morals and ways! There WILL BE changes!! Just watch."
However, the actress has said she is "done" with her father after he betrayed her trust by making public a conversation they had about her fight with Dina.
Lindsay, 26, insisted: "I told my dad a really hurtful and untruthful lie about my mom. She was not on cocaine.
ADVERTISEMENT - CONTINUE READING BELOW
"Daughters have fights with their moms. It happens a lot. It's normal."