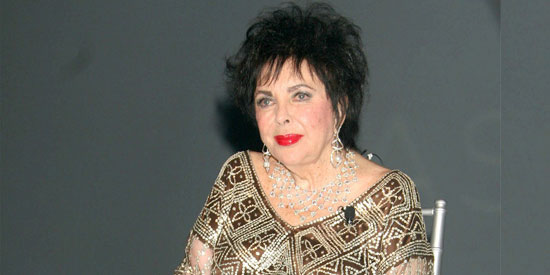 ---
Dame Elizabeth Taylor has surpassed Michael Jackson as the highest-earning dead celebrity of 2011.
The late actress' estate amassed a staggering $210 million last year mainly thanks to the auction of Elizabeth's jewellery, costumes and artwork, which brought in $184 million after every one of the 1,800 lots sold, which puts her at the summit of Forbes magazine's list of Top-Earning Dead Celebrities.
Elizabeth's most expensive item to go under the hammer was an 1889 Van Gogh painting which sold for $16 million, while her perfume, White Diamonds, made around $75 million in 2011.
According to the publication, Elizabeth's estate also made money from property sales and from her films. After starring in 1963 drama Cleopatra, the actress who died in March 2011 aged 79, wisely negotiated a 10-percent ownership stake in each of her movies.
Michael—who died in 2009—dropped into second place in the list with earnings of $145 million, and Elvis Presley is third with $55 million, the same amount he pulled in last year.
The "Beat It" singer's estate earned money from the Cirque Du Soleil show, The Immortal Tour, and he also has a 50-percent stake in Sony's ATV catalog, which features artists such as The Beatles, Lady Gaga, and Taylor Swift.
Cartoonist Charles Schulz, who created the Peanuts comic strip, is fourth in the Forbes list—which analyzes dead celebrities' earnings between October 2011 and October 2012—after amassing $37 million, followed by reggae star Bob Marley with $17 million, and late Beatles singer John Lennon with $12 million.
Other star names featured include Marilyn Monroe ($10 million) and Steve McQueen ($8 million).
Overall, the 13 stars on the list earned a total of $532.5 million from beyond the grave, over the past 12 months.



Full list of Forbes magazine's Top-Earning Dead Celebrities:



1. Dame Elizabeth Taylor ($210 million)

2. Michael Jackson ($14 million)

3. Elvis Presley ($55 million)

4. Charles Schulz ($37 million)

5. Bob Marley ($17 million)

6. John Lennon ($12 million)

7. Marilyn Monroe ($10 million)

7. Albert Einstein ($10 million)

9. Dr. Seuss ($9 million)

10. Steve McQueen ($8 million)

10. Bettie Page ($8 million)

12. Richard Rogers ($6 million)

13. George Harrison ($5.5 million)
ADVERTISEMENT - CONTINUE READING BELOW