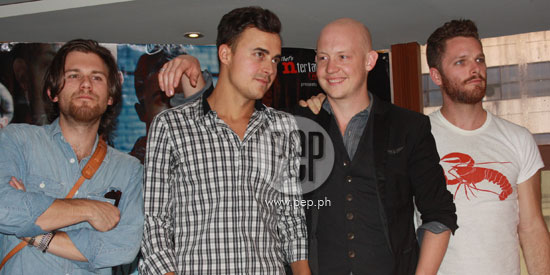 ---
The mood was light as The Fray band members cracked jokes and gamely answered questions from the Philippine media during their November 9 press conference at the Bar One of the Holiday Inn, Ortigas Center.
The Fray, an American piano rock band, is known for its hit singles "How to Save a Life" and "Over My Head (Cable Car)."
Its song "Never Say Never" is included in the official soundtrack of the movie Transformers 2: Revenge of the Fallen.
Dave Welsh, Joe King, Isaac Slade, and Ben Wysocki are in the Philippines for a one-night concert at the Smart Araneta Coliseum tonight, November 10.
The power of the Internet has allowed fans, especially Filipinos, to reach out to this band that hails from Denver, Colorado.
Joe admitted, "We didn't know we had Filipino fans until maybe four years ago. The Internet has caused our connections with fans to be so quick and immediate.
"Artists can now put the word out compared to 15 years ago when you had to go through different formats to communicate with your fans.
"It's a beautiful thing seeing messages from our Filipino fans on Facebook and Twitter. It brings you so much closer."
The Fray got the chance to perform live during the November 9 episode of Eat Bulaga.
How was it like performing in front of a Pinoy crowd?
"It was loud. We're old men now," joked Dave.
Turning serious, he said, "It was great. I'm excited to see how it's like [during the concert].
ADVERTISEMENT - CONTINUE READING BELOW
"So far, you guys are the most outgoing of the Southeast Asian bunch, which generally translates to a really good show."
What were your impressions about the Philippines before coming here?
Joe replied, "My impression before was Manny Pacquiao. My impression now is Manny Pacquiao. I love him."
The guy who was caught playing around with the name cards on the table and wrote the word drummer above the name of Ben was Isaac.
Isaac said about the country, "When I think of Asia, I just thought it's very different from the States.
"Coming here, it's so beautiful to actually put names and faces and hear you speak and eat the food.
"What's that thing called…the pork…?"
Members of the press answered "sisig," referring to a Filipino dish made of a pig's skin and ears that are marinated, finely chopped, cooked, and served on a hot plate.
Upon learning the name of the dish, Isaac put his hand over his heart and emphasized, "I love, I love [sisig]."



PINOYS MAKE THEM FEEL LIKE MADONNA. Isaac observed that they get enthusiastic responses from Pinoys whether abroad or in the Philippines.
The the lead vocalist, main songwriter, and pianist of the band said: "We were in an airport in Dubai and there were three people there that didn't look anybody else. [They said], 'Please, please picture!' I said, 'Are you Filipino?'"
The band experienced the same rock-star treatment when they landed on Philippine soil.
"We stepped off the airplane last night and there were 75 people there trying to take pictures of us and I felt like Madonna!" exclaimed Isaac.
ADVERTISEMENT - CONTINUE READING BELOW
Dave quipped, "Only sexier."
The band members laughed out loud as Ben chimed in: "A better version of Madonna."
Joe added, "A younger Madonna."
Isaac continued, "Usually, in America they cheer at the beginning of the song and in the end. In the Philippines, they cheer every 30 seconds.
"It makes us feel good. Thanks."
Dave shared his own anecdote about an enthusiastic Filipino fan.
"Back home, sometime earlier this year, we were near San Francisco and California. We had a radio show that we were supposed to do but it got cancelled.
"There was this really persistent girl on Twitter that actually let us know that the gig was cancelled even before we knew that the gig was cancelled.
"It was really disappointing, so we thought, uncharacteristically, that we would find time to go to her house and play a little house concert for her.
"We didn't know that she was Filipino, so she had like 300 people in her house, but it was a good prep course for coming to the Philippines, getting to know how family dynamics works..."
Dave then described Filipinos as "incredibly warm, very outgoing."



FOURTH ALBUM TO BE RELEASED BY DECEMBER 2013. The Fray released their third album, Scars and Stories, earlier this year.
What can fans expect from their fourth album?
Isaac revealed, "We're early on the writing part, but we're going to sit down and just start listening to stuff next month as soon as we get home.
"I think the third record [Scars and Stories] has a new confidence and clarity that we've never had before that I'm really proud of.
ADVERTISEMENT - CONTINUE READING BELOW
"I love the songs. I love the recording and I love the energy of it.
"For the fourth record, I'd like to combine that old innocence and naivete…that we're not doing this for money or we're not doing this for fame or for tickets.
"We're doing this because we have something to say and we love doing it.
"And combine that with confidence and clarity that we have, we're getting along better now.
"We used to fight all the time, especially he [referring to Joe] and I. Now, we get comfy with each other."
The singer-pianist revealed, "I'm really excited about getting the record out probably by next Christmas."
The Fray was formed back in 2002, and now that they're on their 10th year in the music industry, what do they think is the reason they've lasted this long?
Ben immediately answered, "Money."
This caused Dave, Joe, and Isaac to laugh out loud once again.
Ben quipped anew, "We pay each other to be in the band."
Turning serious, Isaac pointed out, "My wife told me, most bands when they get more money or become more successful, they don't like each other more and more. They get separate dressing rooms and separate buses..."
Ben interjected, "Sounds kinda nice..."
Isaac continued, "We started out the opposite. We started out divided, I think. We started out like people with different languages, almost.
"Over the years, each one of us have committed to each other more than the band. The band is great.
ADVERTISEMENT - CONTINUE READING BELOW
"We love what we do but we're committed to each other instead of being this rockstar guy. We've come closer and closer through the years."
What can fans expect from tonight's concert?
Joe candidly said, "We sucked six years ago so you wouldn't want us here. You're going to get the better Fray. You're getting the best."