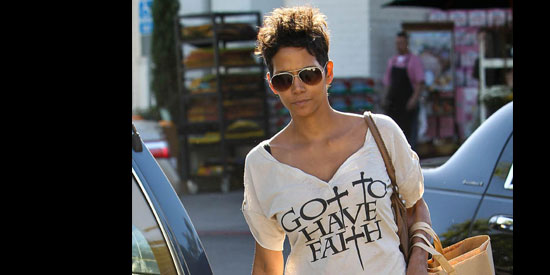 ---
Halle Berry and Olivier Martinez were interviewed by police on Monday (November 26).
Officers in unmarked cars were seen at the actress's Beverly Hills home to speak to her and her fiancé over the fight that Olivier had with Halle's ex-boyfriend Gabriel Aubry last week, when he returned the former couple's four-year-old daughter Nahla to her mother, RadarOnline.com reports.
Gabriel is expected in court today (November 27) to request a judge to lift an order prohibiting him from seeing Nahla, and has made a sworn declaration that he did not instigate the fight and that Olivier attacked and threatened to kill him.
In his application for a restraining order against the French actor—which was granted last November 25—Gabriel also asked for security footage to be secured before it was destroyed.
Gabriel said: "I told the officers that [Martinez] was the one who attacked me, and repeatedly told them to get the security tapes from Ms. Berry's security cameras before she and Mr. Martinez deleted them."
The 36-year-old hunk claimed in court documents that Olivier said he would kill him if he didn't let Halle move to France with Nahla.
The duo got into a heated fight, after which Gabriel was hospitalized for multiple injuries, including a broken rib and a swollen black eye before he was later arrested on suspicion of a misdemeanor battery.
Halle immediately secured a temporary emergency protection order against him to keep him at least 100 yards away for her, their daughter, and Olivier for 72 hours.
ADVERTISEMENT - CONTINUE READING BELOW
The actress's lawyer has confirmed her plans to ask for the order to be extended this week.
A hearing has already been scheduled to decide whether to make the order permanent.