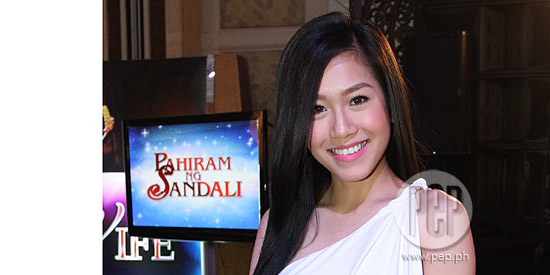 ---
When Rachelle Ann Go watched Miss Saigon a few years ago, she right away dreamt of portraying the lead: a Vietnamese bar girl who falls in love with an American soldier.
This 2012, a callback slip from audition masters of the Miss Saigon revival has brought Rachelle Ann one step closer to that dream.
Rachelle Ann told PEP.ph (Philippine Entertainment Portal) that her experience while auditioning for the coveted role of Kim was "nerve-wracking."
During the GMA Trade Launch held yesterday, November 28, at the Makati Shangri-la Hotel, Rachelle Ann said she was thankful about making it to the final round—along with fellow Kapuso singers Frencheska Farr and Aicelle Santos.
All three are also part of the Sunday musical-variety show of GMA-7, Party Pilipinas.
"Sobrang nerve-racking. Talagang sobrang pressure yung naramdaman namin," recalled Rachelle Ann with a smile.
The 26-year-old singer, auditioning for the role of Kim, performed "I'd Give My Life For You" and "This Money is Yours."
For her part, Aicelle, auditioning for the role of Gigi, performed the song "Movie In My Mind."
In a separate interview, Frencheska told PEP that she also performed "Movie In My Mind," and was instructed to focus on the part of Gigi, one of the bar girls.
(CLICK HERE to read related article.)
Did Rachelle Ann ever think of being a part of Miss Saigon?
"Napanood ko yung Miss Saigon in Canada mga two to three years ago, and sabi ko, 'Gusto ko 'yan.'
"Sabi ko, 'Gagawin ko 'yan!'" she exclaimed.
ADVERTISEMENT - CONTINUE READING BELOW
DANCE AUDITION. The four-day Manila auditions involved acting, dancing, and singing.
When asked which part made her the most nervous, Rachelle Ann admitted that she was intimidated by the dancing part.
"Naku, yun, dancing! Nagulat ako kasi yung iba nag-i-split sa ere! Sabi ko, 'Ano ba 'to?!'
"Ako, dinaan ko na lang sa project-project na lang talaga."
The singer-actress recalled, "May choreographer ang magpapakita ng steps, then pinapagaya sa amin.
"Grabe, grabe yung hirap, pero sobrang thankful ako for this."
The shortlisted performers are now awaiting e-mails to say whether they've been included in the final cast of the West End restaging of Miss Saigon.
Rachelle Ann pointed out: "Yung decision nila next year pa, kasi they took a video of us performing and ipapadala pa nila yun kay MacKintosh."
Sir Cameron MacKintosh is the producer of Miss Saigon.
"Matagal pang paghihintay, pero sabi ko, God's will na lang."
Landing any role in Miss Saigon is considered an honor by stage artists because this gives them the chance to perform in West End, the main theater hub in England.
In 1989, Lea Salonga got her big break in the international scene when she was cast as Kim in the London staging of the critically-acclaimed musical.
Rachelle Ann entered the Philippine entertainment scene when she won the GMA-7 singing contest Search For A Star in 2004.
In 2011, she made her professional musical theater debut when she played the lead character, Princess Ariel, in The Little Mermaid.
SHARE THIS STORY Miss Saigon auditions
" data-url="https://www.pep.ph/news/36611/rachelle-ann-go-recalls-nerve-wracking-experience-during-miss-saigon-auditions-" data-desc="Rachelle Ann performed "I'd Give My Life For You" and "This Money is Yours" in audition for role of Kim." data-image="https://contents.pep.ph/images2/news/d9b12ae6d.jpg"> Miss Saigon auditions
" data-url="https://www.pep.ph/news/36611/rachelle-ann-go-recalls-nerve-wracking-experience-during-miss-saigon-auditions-" data-desc="Rachelle Ann performed "I'd Give My Life For You" and "This Money is Yours" in audition for role of Kim." data-image="https://contents.pep.ph/images2/news/d9b12ae6d.jpg"> Miss Saigon auditions
" data-url="https://www.pep.ph/news/36611/rachelle-ann-go-recalls-nerve-wracking-experience-during-miss-saigon-auditions-" data-desc="Rachelle Ann performed "I'd Give My Life For You" and "This Money is Yours" in audition for role of Kim." data-image="https://contents.pep.ph/images2/news/d9b12ae6d.jpg">
SHARE THIS STORY
Miss Saigon auditions
" data-url="https://www.pep.ph/news/36611/rachelle-ann-go-recalls-nerve-wracking-experience-during-miss-saigon-auditions-" data-desc="Rachelle Ann performed "I'd Give My Life For You" and "This Money is Yours" in audition for role of Kim." data-image="https://contents.pep.ph/images2/news/d9b12ae6d.jpg"> Miss Saigon auditions
" data-url="https://www.pep.ph/news/36611/rachelle-ann-go-recalls-nerve-wracking-experience-during-miss-saigon-auditions-" data-desc="Rachelle Ann performed "I'd Give My Life For You" and "This Money is Yours" in audition for role of Kim." data-image="https://contents.pep.ph/images2/news/d9b12ae6d.jpg"> Miss Saigon auditions
" data-url="https://www.pep.ph/news/36611/rachelle-ann-go-recalls-nerve-wracking-experience-during-miss-saigon-auditions-" data-desc="Rachelle Ann performed "I'd Give My Life For You" and "This Money is Yours" in audition for role of Kim." data-image="https://contents.pep.ph/images2/news/d9b12ae6d.jpg"> Miss Saigon auditions
" data-url="https://www.pep.ph/news/36611/rachelle-ann-go-recalls-nerve-wracking-experience-during-miss-saigon-auditions-" data-desc="Rachelle Ann performed "I'd Give My Life For You" and "This Money is Yours" in audition for role of Kim." data-image="https://contents.pep.ph/images2/news/d9b12ae6d.jpg">