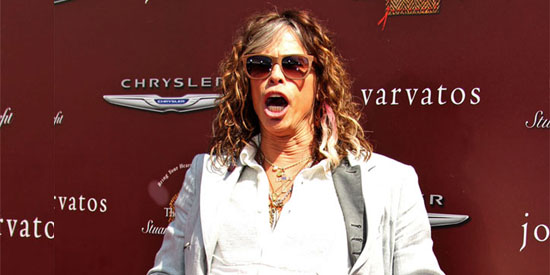 ---
Steven Tyler has hit back at Nicki Minaj for calling him a "racist."
The new American Idol judge lashed out at the Aerosmith rocker—who she replaced on the panel of the talent show—after he questioned her suitability and claimed she would've passed on legendary musician Bob Dylan if he had auditioned.
But Steven was shocked when Nicki took it as a racist insult.
He told Canada's eTalk: "It was a moment. I'm sorry if it was taken wrong. But I'm the farthest from a racist. I'm not sure how she got that from me saying 'I'm not sure she would have judged Bob Dylan.'
"I was just saying, if Bob Dylan came on the show, he would have been thrown off. Maybe I spoke out of turn but a racist I'm not."
Nicki was furious when Steven insisted she would have turned down Bob Dylan if he auditioned for American Idol and took to twitter to blast the Aerosmith rocker.
She wrote: "Steven Tyler said I would have sent Bob Dylan to a cornfield??? Steven, you haven't seen me judge one single solitary contestant yet.
"I understand you really wanted to keep your job but take that up with the producers. I haven't done anything to you. That's a racist comment.
"You assume that I wouldn't have liked Bob Dylan??? why? black? rapper? what? go f**k yourself and worry about yourself babe. LOL lets make him a shirt that says 'No Coloreds Allowed'"
ADVERTISEMENT - CONTINUE READING BELOW