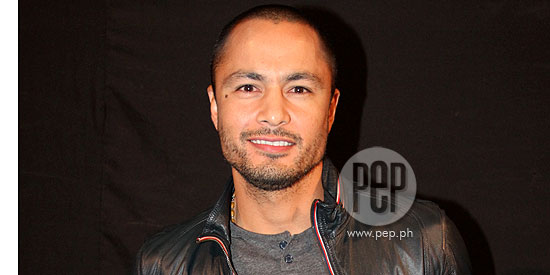 ---
After months of laboring over TV5's newest superhero TV series, Derek Ramsay and the rest of the cast and crew proudly presented the 90-minute "made-for-TV movie" of Kidlat, yesterday, January 6, Sunday.
A press screening was held at the TV5 Broadway studio in Aurora Boulevard, Quezon City, an hour ahead of the nationwide TV premiere at 6:45 p.m.
A teary-eyed Derek approached the press after the grand kick-off. Elated and emotional, the drama actor and now superhero TV star expressed how he felt after watching the first episode of Kidlat.
"I don't know what to say. It's like… I… hindi nerbiyos, e. Parang nanalo ako sa competition."
An ultimate sports buff who plays professional Frisbee, Derek relayed, "This is what I feel like every time pag naglaban kami ng national team abroad and you win and you get to represent your country.
"This… parang yung buong cast is my team and we won by putting in all that time and effort to make a good product."
The actor added that he started feeling this way when he and his family spent Christmas in Bukidnon in Mindanao, where adults and kids called him by Kidlat.
"So, it's nice that you were able to reach across and get to through to these viewers and they're supporting you."
Speaking in behalf of those who contributed to the project, the actor relayed, "Bias aside, I think we really came up with a really, really good product.
"Unfortunately, wala dito si Direk Mike. Siguro, he'd be in tears. He'd be proud of all of us," Derek said, not failing to acknowledge Kidlat director Mike Tuviera, who was in Hong Kong during the premiere.
ADVERTISEMENT - CONTINUE READING BELOW
REWARDING. When Derek was asked to explain what he meant by "feeling like a winner," the actor said, "Because, you know, you sacrificed so much time… you put in so much effort into doing something. You kind of forget na yung bigger picture."
Playing Kidlat, Derek did not deny, can be stressful.
He pointed out that wearing the costume, shooting the fight scenes where he gets cuts and injuries from time to time, can drain the life out of him.
Derek added, that they usually finish taping at 7 or 8 in the morning.
The actor pointed out, "Sometimes, you know, you lose track na you're doing this for that— what you just saw.
"And pag nakita mo na yung mga ginagawa mo, it becomes easier."
STUNT, EFFECTS. The 90-minute episode, according to Derek, was just the tip of the iceberg. The audience has yet to see the best action scenes they have shot so far.
"What I'm excited about is hindi pa 'yan yung mga magagandang eksena na nakunan namin. We have really, really cool scenes, better effects…"
In the first episode, Derek's character, Voltaire, exhibited his gripping super moves—helicopter and side kicks, back flips, and somersaults.
Does Derek get to do his own stunts?
The actor answered, "Most of it [but] I won't take credit for all of that cool stuff you saw there.
"Most of the cool stuff was done by our stunt director, Mark Roy. He made me really cool there."
He said that he really wanted to do all the stunts and that whenever he tried to, Direk Mike feared that Derek would get injured.
ADVERTISEMENT - CONTINUE READING BELOW
"Takot na takot nga si Direk Mike kasi ginagaya ko yung mga ibang stunts na ginagawa nila diyan na hindi naman pinag-usapan na dapat gawin ko.
"Dapat ika-cut na, ginagawa ko na. So, yeah, I tried to do a lot of the stunts.
"Even the motorbike, sanay naman ako sumakay ng motor."
COSTUME. Wearing the Kidlat suit, Derek admitted can be quite uncomfortable, too.
While he sports it with pride as his bod never looked so rocking robust, the actor said that he actually sweats so much whenever he wears the costume—"Mainit, e!
"So, pag nagfa-fight scene ka sa ilalim ng araw, pawis na pawis.
"Bumili nga ako ng isang body suit para dun pumunta lahat ng pawis. I could lose five to ten pounds in one day… of water!"
According to Derek, several Kidlat suits—designed by the same person responsible for the X-Men costumes—had to be produced.
He shared, "Meron pag aakyat ako sa stage, merong pang-fight scene, tapos dalawa na pang-double. So, maraming suits na ginawa."
The actor likewise added that he accidentally wrecked the suit that he wore for the first fight scene they shot.
Derek mentioned that yes, the costume involves wearing spandex.
Laughing he told the press, "You can't have a superhero outfit if there's no spandex. There has to be a little bit of spandex.
"But our costume, it's all-leather and spandex in places lang that you need to move—in the armpits [and] knees…
"Sometimes you develop a rash in weird places. You have to put up with that. You got to put Vaseline in some areas!"
ADVERTISEMENT - CONTINUE READING BELOW
2013 PROJECTS. When asked about what he looks forward to this year, Derek said that 2013 is just like 2012.
"I can't proclaim," the actor quipped.
"I'm starting it right with this cool project, Kidlat.
"TV5 is already talking to me about other projects. I said preno muna. Focus muna tayo dito sa Kidlat."
Meanwhile, a movie project with his No Other Woman lead actress Cristine Reyes and actress Claudine Barretto is underway.
"But nothing's on stone yet," Derek clarified.
"We're still talking about it… [I'm] going through the script now. It's a pretty cool movie. TV5 is presenting movies to me now. And I think that should be my priority."
Derek hinted that it will be another affair-themed film which would involve four people.
A reality show is also being offered to Derek.
"Gusto nilang umpisahan ko but that's gonna require me to disappear again for another month!"
The actor, meanwhile, denied that the said project is Amazing Race Philippines Season 2.
BEING LINKED TO CRISTINE REYES. During the said post-press launch interview, Derek was asked whether the rumor linking him to Cristine Reyes is true.
There have also been talks in the past months that Cristine and her boyfriend Rayver Cruz have called it quits.
"No. Bro [brother] ko si Rayver. Alam ninyo naman na si Cristine ang naging leading lady ko sa No Other Woman," Derek flatly denied.
"I got close to Cristine, I got close to… initially close to Rayver. I think Cristine answered that already na sila pa rin."
ADVERTISEMENT - CONTINUE READING BELOW
Recently, Derek and Cristine were spotted together in Nasugbu, Batangas.
While the actor did not deny that the sighting was true, Derek clarified, "Cristine and I and some friends went out. When we go out, [we know that] people are gonna see us.
"I'm not hiding anything that's why we're comfortable going out with each other."
The Nasugbu sighting, according to Derek was one of the few times that he and Cristine met up.
"It was one time!" the actor said. He too emphasized that it was a coincidence that he and the sexy actress were both at the Pico de Loro resort in Nasugbu.
Derek told, "I was with my father! I was in Pico de Loro with my family. I was coming home from golf, my family was in Pico de Loro and then a friend said that nakita daw si Cristine sa Nasugbu."
Upong hearing the news from his friend, Derek said he texted Cristine: "Hoy, nasa Nasugbu ka raw!" to which the actress replied, "Oo. Andito ako sa Pico."
After receiving confirmation that Cristine was indeed in the resort with her friends, Derek requested, "Pa-picture naman mga kaibigan ko!"
Derek continued his story, "So from the golf course sa Calatagan, pagbalik namin sa Pico de Loro, I took a picture of my friends with my father. Kasama pati Dad ko sa picture!"
HOW CLOSE ARE DEREK AND CRISTINE? Derek stressed that he and Cristine particularly got to know each other while working on No Other Woman.
ADVERTISEMENT - CONTINUE READING BELOW
Their friendship continued even after the shooting the 2011 blockbuster film.
Derek relayed how Cristine one time asked him if he had friends in U.K. who can give her a tour during the time she visited.
The actor who was willing to do her a favor called up his ex-girlfriend Collete, and asked if she can show Cristine around.
Derek recalled, "There's a funny story to that nga kasi lumabas sila. They went out, they had a good time. Now they're close friends!"
During the interview, Derek good-humoredly remarked at how his non-Tagalog speaking friend and Cristine, whom Derek calls Aa, got along so well.
With an amused expression, Derek told, "Sasakapakin ako ni Aa nito [pero] teka, muna, paano nagkasundo yun?
"Kasi yung girlfriend ko nun, hindi marunong mag-Tagalog, [at may] thick English accent!
"Si Aa, ilang beses ko nang sinubukang kausapin sa English, ayaw ako kausapin sa English! Sabi ko, pa'no [nangyari] 'to?"
According to Derek's ex-girlfriend, Cristine actually "speaks really good English!"
Derek narrated, "I asked my ex, 'How did you guys get along?' She was like, 'She speaks English!' I'm like, 'No she doesn't!'"
"I'm not insulting her na she can't speak English. I'm just saying, kasi pag kinausap ko siya, Tagalog lang siya nang Tagalog sa akin."
FRIENDS. Derek relayed the story to stress that he and Cristine are only friends.
Inquired if Rayver was ever jealous over Derek's friendship with Cristine, Derek answered, "Not that I know of.
ADVERTISEMENT - CONTINUE READING BELOW
"Rayver comes to the house. We play basketball together but not recently.
"I don't see much of Rayver, we're from the South. We're both from the South but I don't know if there's bad blood."
Also asked whether he ever thought of the possibility of dating Cristine should the opportunity arise, Derek reorted, "I never thought of it that way because we are friends, you know?
"I can't say. She's definitely a beautiful girl. That's a given. We get along, our personalities match, but I haven't thought about it that way.
"She's my friend and Rayver's my friend. And ang pagkakaalam ko, they're together."
At the end of the interview, Derek confirmed that at the moment he is single and that he is married to his job.