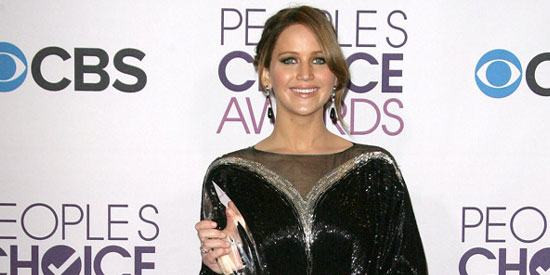 ---
The Hunger Games was the big winner at the People's Choice Awards last night (January 9), picking up five prizes.
The blockbuster film—the first in a trilogy based on Suzanne Collins' best-selling novels—was named Favorite Movie, Favorite Action Movie, and Favorite Movie Franchise; while its star Jennifer Lawrence was named Favorite Movie Actress, and she and co-stars Josh Hutcherson and Liam Hemsworth took home Favorite On Screen Chemistry.
Jennifer—who beat competition from Mila Kunis, Emma Stone, Anne Hathaway, and Scarlett Johansson to take the Favourite Movie Actress accolade—said: "Thank you for loving movies as much as I do, and loving this movie and voting."
However, the 22-year-old beauty also admitted she wasn't feeling very glamorous on such an auspicious occasion.
She said: "Oh my gosh, I'm sweating so much I'm gonna drop it. Oh god, Robert Downey Jr. knows, I sweat all over you... when I shook his hand!"
Katy Perry was the biggest individual winner, being named Favorite Female Artist and Favorite Pop Artist, while her "Part of Me" single was honored with Favorite Pop Video. Her "KatyCats" were named Favorite Music Fan Following.
She said afterwards the awards were a "very nice way to start off the New Year."
She added: "I think if I had to pick one of the awards, Favorite Music Fan Following would be my favorite one because my fans support me so much."
British boy band One Direction scooped two prizes: Favorite Song for "What Makes You Beautiful" and Favorite Album for "Up All Night."
ADVERTISEMENT - CONTINUE READING BELOW
The Big Bang Theory actress Kaley Cuoco hosted the ceremony at the Nokia Theatre in Los Angeles.
Performers included Christina Aguilera, Jason Aldean and Alicia Keys.
A record-breaking 475 million votes were cast for this year's event.



People's Choice Awards 2013 full list of winners:
Favourite Comedic Movie Actress: Jennifer Aniston

Favourite Comedic Movie Actor: Adam Sandler

Favourite Comedic Movie: Ted

Favourite Movie Actress: Jennifer Lawrence

Favourite Movie Actor: Robert Downey Jr.

Favourite Movie Icon: Meryl Streep

Favourite Movie: The Hunger Games

Favourite Movie Franchise: The Hunger Games

Favourite Action Movie Star: Chris Hemsworth

Favourite Action Movie: The Hunger Games

Favourite Dramatic Movie Actress: Emma Watson

Favourite Dramatic Movie Actor: Zac Efron

Favourite Dramatic Movie: Perks of Being a Wallflower

Favourite Movie Fan Following: Twi-hards, Twilight

Favourite Comedic TV Actress: Lea Michele

Favourite Comedic TV Actor: Chris Colfer

Favourite Cable TV Comedy: Awkward

Favourite Network TV Comedy: The Big Bang Theory

Favourite New TV Comedy: The New Normal

Favourite Dramatic TV Actress: Ellen Pompeo

Favourite Dramatic TV Actor: Nathan Fillion

Favourite Network TV Drama: Grey's Anatomy

Favourite Cable TV Drama: Leverage

Favourite New TV Drama: Beauty and the Beast

Favourite TV Crime Drama: Castle

Favourite Premium Cable TV Show: True Blood

Favourite Sci-Fi/Fantasy TV Show: Supernatural

Favourite Competition TV Show: The X Factor

Favourite Celebrity Judge: Demi Lovato

Favourite TV Fan Following: SPNFamily, Supernatural

Favourite Daytime TV Host: Ellen DeGeneres

Favourite Late Night Talk-Show Host: Jimmy Fallon

Favourite New Talk-Show Host: Steve Harvey

Favourite Male Artist: Jason Mraz

Favourite Female Artist: Katy Perry

Favourite Country Artist: Taylor Swift

Favourite Pop Artist: Katy Perry

Favourite R&B Artist: Rihanna

Favourite Hip-Hop Artist: Nicki Minaj

Favourite Band: Maroon 5

Favourite Breakout Artist: The Wanted

Favourite Album: "Up All Night'", One Direction

Favourite Song: "What Makes You Beautiful", One Direction

Favourite Music Video: "Part of Me", Katy Perry

Favourite Music Fan Following: KatyCats, Katy Perry

Favourite Superhero: Robert Downey Jr., Iron Man

Favourite Face of Heroism: Jennifer Lawrence, The Hunger Games

People's Voice Award: Christina Aguilera

Favourite Onscreen Chemistry: Jennifer Lawrence, Josh Hutcherson, Liam Hemsworth, The Hunger Games

Favourite Humanitarian: Sandra Bullock
ADVERTISEMENT - CONTINUE READING BELOW