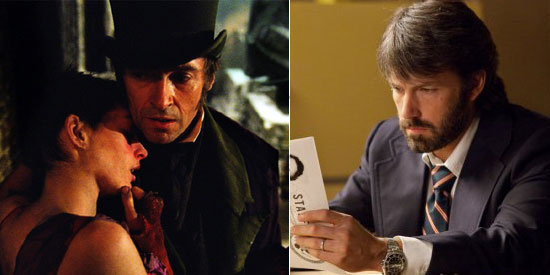 ---
Les Miserables and Argo are the top winners in the recently-concluded Golden Globe Awards.
Les Miserables picked up three trophies, while Argo got two.
Les Miserables won Best Motion Picture - Comedy or Musical, Best Actor in A Comedy or Musical for Hugh Jackman, and Best Supporting Actress for Anne Hathaway.
Argo, on the other hand, was named Best Motion Picture - Drama and Best Director for Ben Affleck.
Affleck's win can be considered a vindication for the actor-director after missing out on the Best Director nomination in the Oscar Awards.
Daniel Day-Lewis and Jessica Chastain were the top acting winners in the Drama category for their work in Lincoln and Zero Dark Thirty, respectively.
Jennifer Lawrence won Best Actress-Comedy or Musical for her performance in Silver Linings Playbook.
Christopher Waltz picked up his second Golden Globe trophy as Best Supporting Actor for his work in Django Unchained.
In the television category, new HBO series Girls was named Best Comedy Series; while its star and creator Lena Dunham won Best Actress in a Comedy or Musical.
Homeland swept the Drama category winning Best Drama Series, Best Actress for Claire Danes and Best Actor for Damian Lewis.
Here is the full list of winners of the 70th Golden Globe Awards:
Film
Best Motion Picture (Drama) - Argo
Best Motion Picture (Comedy Or Musical) - Les Miserables
Best Performance by an Actor (Drama) - Daniel Day-Lewis (Lincoln)
Best Performance by an Actress (Drama) - Jessica Chastain (Zero Dark Thirty)
Best Performance by an Actor (Comedy Or Musical) - Hugh Jackman (Les Miserables)
ADVERTISEMENT - CONTINUE READING BELOW
Best Performance by an Actress (Comedy Or Musical) – Jennifer Lawrence (Silver Linings Playbook)
Best Director - Ben Affleck (Argo)
Best Performance by an Actor In A Supporting Role - Christopher Waltz (Django Unchained)
Best Performance by an Actress In A Supporting Role - Anne Hathaway (Les Miserables)
Best Screenplay - Quentin Tarantino (Django Unchained)
Best Foreign Language Film – Amour (Austria)
Best Animated Feature Film - Brave
Best Original Song - Skyfall" (music and lyrics by Adele and Paul Epworth), Skyfall
Best Original Score - Michael Danna (Life of Pi)
Television
Best Television Series (Comedy Or Musical) – Girls
Best Performance by an Actor (Comedy Or Musical) - Don Cheadle (House of Lies)
Best Performance by an Actress (Comedy Or Musical) - Lena Dunham (Girls)
Best Television Series (Drama) - Homeland
Best Performance by an Actor (Drama) - Damian Lewis (Homeland)
Best Performance by an Actress (Drama) – Claire Danes (Homeland)
Best Mini-Series Or Motion Picture Made for Television - Game Change
Best Performance by an Actor in a Mini-Series or Motion Picture Made for Television - Kevin Costner (Hatfields and McCoys)
Best Performance by an Actress In A Mini-series or Motion Picture Made for Television - Julianne Moore (Game Change)
Best Performance by an Actor in a Supporting Role in a Series, Mini-Series or Motion Picture Made for Television - Ed Harris (Game Change)
Best Performance by an Actress in a Supporting Role in a Series, Mini-Series or Motion Picture Made for Television - Maggie Smith (Downton Abbey)
Cecil B. DeMille Award – Jodie Foster
ADVERTISEMENT - CONTINUE READING BELOW