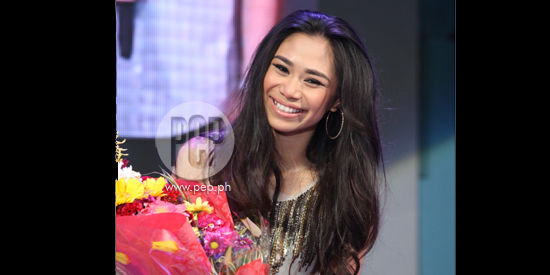 ---
Born to a Mexican-American father and a Filipina mother, Jessica Sanchez revealed that she had a tough time while growing up in the United States.
The American Idol Season 11 runner-up admitted this to select members of the Philippine media during her press conference held yesterday, February 11, at the SM North Edsa Skydome.
"When I was younger, I got picked on at school.
"It has always been my dream to become a singer and I didn't let anybody put me down.
"I got bullied a lot.
"People picked on the fact that I sing and I'm not good enough.
"But I don't care what you say, this is what I love to do and I'm going to go for it.
"Then I just jumped in and I joined American Idol and, right now, I'm here with all my people," said the native of Chula Vista, California.
ADVERTISEMENT - CONTINUE READING BELOW
The tone of her voice was upbeat as she continued to talk about her stint on American Idol where she placed second to winner Phillip Phillips.
Would she say that joining American Idol is the biggest "jump in" moment of her life?
Jessica enthused, "Definitely! It's one of the biggest ones…
"I always love to sing and it was the biggest opportunity. I worked for it.
"It was my first time auditioning and it was just a message from God.
"You just got to do what you love to do."
PROUD TO BE PINAY. During the presscon, Jessica was asked to name her favorite Filipino dish and she answered immediately, "Sinigang…my mom cooks it all the time."
Given her lineage, Jessica admits that it has been a struggle for an artist like her to penetrate the mainstream music industry.
She pointed out: "All I can say is that it's hard for any biracial person to get on the radio and that is what I have been trying to do.
ADVERTISEMENT - CONTINUE READING BELOW
"There are a lot of Filipinos over there. Bruno Mars is one person and I am finding my way as a local artist too.
"I'm really trying to make a name for us Filipinos in the States."
How proud is she of her Filipino heritage?
"I'm very, very proud to be Filipino. I love the Philippines.
"The last time I was here, everybody treats me like family. I just love it here."
ACTING DEBUT ON GLEE. During the presscon, Jessica confirmed that she will be appearing as a guest on the musical comedy-drama TV series Glee, which is now on its fourth season.
"Yes, I met with Ryan Murphy and we're talking about some episodes and that's happening very, very soon.
"I'm very excited. I haven't acted before but it's something new.
"I just said, 'Let's do this.'
"You only live life once.
ADVERTISEMENT - CONTINUE READING BELOW
"I've never acted before but it seems like it's so fun to do. So I'm like, 'Let's do this!'"
WILL SHE BE PART OF MISS SAIGON? Late last year, there were those speculating that Jessica is being considered to portray Kim in the movie version of Miss Saigon.
Jessica sais, "There were rumors about me being in Miss Saigon and there being an upcoming movie.
"I made some jokes and I said, 'Let's do that.' I would love to do that. Yeah, I'll do it. It sounds lovely."
NEW YOUTH AMBASSADOR. As the newest youth ambassador of Smart, Jessica performed in the music video "Jump In" with Fil-Am rapper Apl.de.ap of the Black Eyed Peas.
The 17-year-old singer said that she wants to inspire the youth to pursue their dreams.
As part of her advocacy to reach out to the youth, Jessica conducted a storytelling session with students of the Epifanio de los Santos Elementary School in Singalong for the Read to be Smart program.
ADVERTISEMENT - CONTINUE READING BELOW
"That was so much fun!
"I've never done anything like that before and I got to do that for the first time here in Manila.
"The kids were adorable and I read them a little story. They taught me a little nursery rhyme.
"That was definitely the highlight of my week of being here in Manila.
"I won't ever forget that. It was amazing," she said with a smile.
Jessica is currently in the Philippines to headline her first solo concert on February 14 at the Smart Araneta Coliseum.
She will be joined by fellow American Idol Season 11 finalist Colton Dixon, who is slated to release his new album here in the Philippines.
(CLICK HERE to read related article.)
In September 2012, Jessica performed for Pinoys with the rest of the AI Season 11 finalists, including winner Phillip Phillips.
CLICK HERE to watch Jessica's performance.