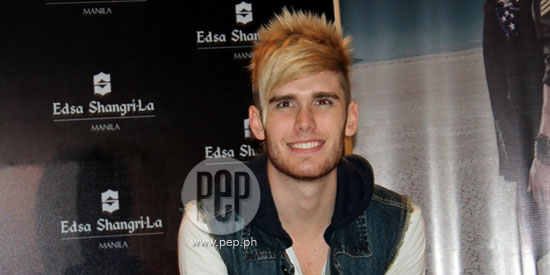 ---
"I just think that she's got some flavor and I've got some rock, and that's gonna be really cool," says American Idol Season 11 seventh-placer Colton Dixon about joining runner-up Jessica Sanchez in her Valentine concert at Smart Araneta Coliseum on February 14.
In an interview Tuesday, February 12, at the Edsa Shangri-La Hotel, Colton expressed his excitement about performing with Jessica again in the Philippines.
Colton and Jessica performed with the other AI Season 11 finalists at the Big Dome last year, as part of the American Idol world tour.
He said, "We're definitely not the same genre, music-wise, but I think that would be fun.
"Valentine's Day is about loving each other
"And it's just cool that Jessica and I are doing a show together.
"I know that if I am going to do a show with these guys [American Idol season 11 finalists] again...
"I really want to see these guys again, which is really sad.
"So I am just so happy that I am sharing the stage with Jessica.
AMERICAN IDOL. Did he learn anything from his experience in joining American Idol?
"Absolutely!" he quipped.
"Even just as a contestant of American Idol, just being a viewer of Season 1, I've heard news the contestants who changed somewhere, take the process.
"I learned that it wasn't the case.
"It was the contestants who didn't change and stayed true to their work, they are the ones who are successful...
"Chris Daughtry, Kelly Clarkson, Carrie Underwood... so many great artists that have come from American Idol."
ADVERTISEMENT - CONTINUE READING BELOW
The Tennessee-native added, "Learning to be yourself....
"It's great to challenge yourself but always remember your roots, where you came from—and you will really be successful."
Colton also admitted that he is a huge fan of the show. But he never spent time voting for his favorites—he just watch and support.
"I never voted for anybody, including myself.
"I prefer watching than engaging myself to texting.
"I remember Christ Daughtry's season how mad I was when he was fourth, ridiculous!"
What can he say about the new panel of American Idol judges—Mariah Carey, Nicki Minaj, and Keith Urban?
Colton said, "I hate to see Steven [Tyler] and Jennifer [Lopez] leave, but I think they did a good job filling their shoes.
"I've been a big fan of Keith Urban over the years and I'm still a little intimidated by Nicki Minaj.
"I haven't put my finger on her yet, but Mariah is great and Randy's going to keep down the house like he always does."
He added, "I heard the chemistry's great!"
COLTON'S GIRLFRIEND. Valentine's Day is just around the corner and Colton didn't deny the fact that he is in a relationship right now.
The singer told the press, "Her name's Annie.
"She's great. She keeps me on the floor which is more than I can ask for."
Is she also into music?
"She is, actually.
"She graduated college for Piano and Voice so that was definitely one of the things that kind of intrigued me at first.
ADVERTISEMENT - CONTINUE READING BELOW
"She hasn't sang for me yet, though.
"I'm dying to hear her sing.
"It's so strange because we've been dating for two months and I still haven't heard my girlfriend sing, so I'm going to get that out of her sometime soon."
VALENTINE PLANS. Since Colton can't celebrate Valentine's Day with his girlfriend, he shared some sweet surprises he did for her.
"Sweetest thing I've done for her… as a guy, we are just trying to be cool until the next day.
"I actually… for Christmas, one of her favorite brands is Michael Kors so I gave her a Michael Kors duffle bag
"I actually invited her here in the Philippines but a situation came up so she couldn't.
"That would really be cool if I can stay with her while I am here.
"I think that was the coolest plan, but it failed."
What is his favorite love song?
"I know I said I was romantic, but my love song category is lacking," he said.
DREAM COLLABORATION. Like other singers, Colton also has his own dream collaborations.
"I'd love to collaborate with Switchfoot, 30 Seconds to Mars, Jared Leto, Coldplay...
"I actually get to collaborate with Jason of Lifehouse, and he's just amazing!
"Jason is a great guy... he was here not too long ago.
"He was just so cool.
"He once sent me an invitation to his house, we wrote songs and just had a great time.
ADVERTISEMENT - CONTINUE READING BELOW
"There's so many I want to collaborate with, but I would stick to those for now."
This is Colton's second time in the Philippines, has he found any exotic thing that caught his attention?
He laughed and said, "I've seen the inside of the plane, baggage counter and the hotel today...
"So as far as the exotic thing I've seen, I would really like to try the pool," Colton said about the pool outside the ballroom.
But he added, "Just for my last visit, I love going out to the city,
"I've been to Greenhills Mall, so much fun!"
MESSAGE TO PINOY FANS. What is Colton's message to his Filipino fans?
"You guys are so awesome.
"I am happy to be back the second time.
"Thank you for being so genuine and so kind and for loving music.
"I appreciate it."
CLICK HERE for related video.