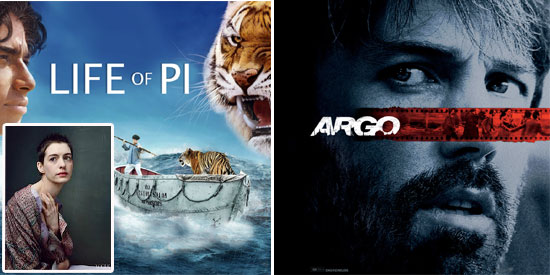 ---
Argo took home the Best Picture, Best Adapted Screenplay, and Best in Film Editing at the 85th Oscar Awards, Monday, February 25, 2013.
The film starring, directed and co-produced by Ben Affleck received the honors Sunday night in Dolby Theatre, Hollywood.
Meanwhile, Life of Pi won Best Cinematography, Best Visual Effects, Best Original Score, and Best Director for Ang Lee.
Daniel Day-Lewis won Best Actor for Lincoln while Jennifer Lawrence won Best Actress for Silver Linings Playbook.
Anne Hathaway went home with her first Oscar award as Best Supporting Actress for Les Miserables while Christoph Waltz is Best Supporting Actor for Django Unchained.
Mid-program, the cast of Les Miserables received a standing ovation for their performance of a medley of the movie's song numbers.
US First Lady Michelle Obama surprised the audience when she appeared via video conference to announce the winner of the Best Picture.
Complete list of winners:
Best Actor in a Supporting Role: Christoph Waltz, Django Unchained
Best Animated Short Film: Paperman, John Kahrs
Best Animated Feature Film: Brave, Mark Andrews and Brenda Chapman
Best Cinematography: Life of Pi, Claudio Miranda
Best Visual Effects: Life of Pi, Bill Westenhofer, Guillaume Rocheron, Erik-Jan De Boer and Donald R. Elliott
Best in Costume Design: Anna Karenina, Jacqueline Durran
Best in Make-up and Hairstyling: Les Miserables, Lisa Westcott and Julie Dartnell
Best Live Action Short Film: Curfew, Shawn Christensen
Best Documentary Short Subject: Inocente, Sean Fine and Andrea Nix Fine
Best Documentary Feature: Searching for Sugarman, Malik Bendjelloul and Simon Chinn
ADVERTISEMENT - CONTINUE READING BELOW
Best Foreign Language Film: Amour, Austria
Best in Sound Mixing: Les Misérables, Andy Nelson, Mark Paterson and Simon Hayes
Best in Sound Editing: Tie, Zero Dark Thirty, Paul NJ Ottosson
Skyfall, Per Hallberg, Karen Baker Landers
Best Supporting Actress: Anne Hathaway, Les Miserables
"It came true. My husband, the greatest moment of my life by far and away was the one where you walked into it. Here's hoping that in the not too distant future the misfortunes of Fantine will only be found in stories."
Best in Film Editing: Argo, William Goldenberg
Best in Production Design: Lincoln, Rick Carter; Set Decoration: Jim Erickson
Best Original Score: Life of Pi, Mychael Danna
Best Original Song: Skyfall, Adele Adkins and Paul Epworth
Best in Adapted Screenplay: Argo, Chris Terrio
Best in Original Screenplay: Django Unchained, Quentin Tarantino
Best Director: Life of Pi, Ang Lee
Best Actress: Jennifer Lawrence, Silver Linings Playbook
Best Actor: Daniel Day-Lewis, Lincoln
Best Picture: Argo