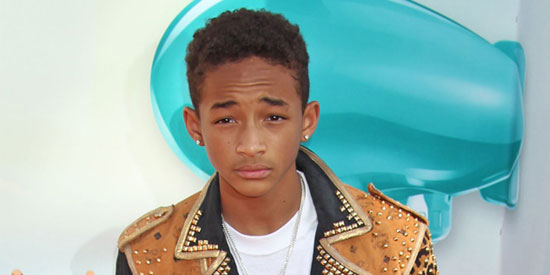 ---
Kylie Jenner is dating Jaden Smith.
The 15-year-old reality TV star was spotted in a London cafe with the Karate Kid actor over the weekend and friends have revealed they have recently started a relationship after being friends for some time.
A source told Us Weekly: "They're dating. It's new, but they've been friends forever."
No doubt Kylie will have tried to cheer Jaden up after he was blamed for ruining Justin Bieber's birthday party.
The young star—who is the son of Hollywood power couple Will Smith and Jada Pinkett-Smith—was allegedly responsible for the Canadian popstar and his entourage's confrontation with security that led to them having to leave a London nightclub on Friday night (March 1) after just 15 minutes because they refused to let Jaden into the event because he is underage.
A source said: "There was never any mention of Jaden being there, so when he showed up, it caused problems. They could have stayed if Jaden left, but Justin wanted to be loyal to his good friend."
The "Beauty And A Beat" singer deemed his 19th birthday the "worst birthday" ever after after the confrontation.
Meanwhile, Jaden and Kylie arrived together at Justin's concert in London on Monday (March 4).
Onlookers claimed the duo were holding hands after they appeared on stage to throw out fliers to the crowd promoting Jaden's new movie After Earth.
The source added: "Jaden and Kylie were both wearing masks and throwing fliers out to fans. Then they took off the masks and revealed themselves to the crowd.
ADVERTISEMENT - CONTINUE READING BELOW
"They were side by side and appeared to be holding hands as they greeted fans in between Carly Rae Jepsen and Justin Bieber's performances. They looked like a couple."