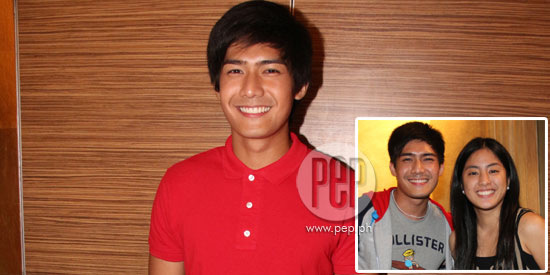 ---
Though they are not officially together yet, Robi Domingo did not hesitate to talk about his relationship with Ateneo Lady Eagles volleyball player Gretchen Ho.
PEP.ph (Philippine Entertainment Portal) had a chat with Robi yesterday, March 15, at Peking Garden restaurant in TriNoMa.
He was launched as one of the brand ambassadors of Brazilian timepiece brand YOT (Your Own Time), along with Daniel Padilla, Julia Montes, Kathryn Bernardo, and Rayver Cruz.
Over the years, UAAP women's volleyball has grown very popular that some of its players have now achieved celebrity status.
One of these "volleybelles," as they are called, is Gretchen Ho, who played her last year in the league as she is now graduating from college.
Gretchen has more than 220,000 likes on her Facebook page and almost 88,000 followers on Twitter.
On how proud he is that Gretchen has made a name for herself, Robi says, "With or without that popularity, I am very much proud of that girl."
Robi, who doesn't seem surprised of Gretchen's rise to fame, says, "Well since before naman, she's been in the super up there, you know, in the popular sphere.
"But when I got to know her kasi, I didn't mind that. You know, I got to know her as a friend.
"We met actually when we were third year students pa lang."
HOW THEY MET. Robi came from an all-boys Ateneo De Manila High School while Gretchen came from all-girls Immaculate Conception Academy (ICA).
These exclusive schools hold soirees to encourage interaction between the students.
ADVERTISEMENT - CONTINUE READING BELOW
On his first encounter with Gretchen, Robi related, "We had a soiree and it turned out really bad.
"Cause Ateneo and then the ICA soiree. So we had that ICA soiree. And then Xavier boys came in."
ICA and neighboring Xavier school are known to have close ties as they are both part of the EDSA-Ortigas Consortium of Schools.
Robi continues, "So our class became…'threatened' is not the word. We felt disrespected.
"Kasi, di ba, it's our soiree and then Xavier guys were part of that one. Ganun yung naging story.
"Pero yun, we started out on the wrong foot. Tapos okay na, okay naman ngayon."
Though they were acquainted in that instance, their friendship did not develop until later.
Robi explains, "We didn't get a chance to talk to each other well kasi yung soiree was really bad, tapos after that, we met college na. After PBB [Pinoy Big Brother] yun.
"So I had that name already. Ayun. She was starting out to be one of volleyballs' volleybelles.
"We met, yun nga, sa soiree and then we got to know really each other after that Ateneo placement office ad campaign."
Now schoolmates at the Ateneo De Manila University, Robi and Gretchen had a chance to work together on a school ad campaign.
But another incident brought them even closer. Robi narrates, "And then there were a series of meetings, a series of talks until graduation came.
"And then… basta, it was a big, big, unexpected story.
ADVERTISEMENT - CONTINUE READING BELOW
"After ASAP, my mom brought me to this San Juan Arena without me expecting it, to watch a game.
"Cause her [Gretchen] mom invited my mom and my mom invited our whole family. So damay lang ako.
"And then from there, I saw Vice Ganda tapos tinease niya kami. Tapos dun nagsimula na."
GRETCHEN AND SHOWBIZ. We asked Robi how he feels about Gretchen getting into showbiz.
He answered, "Siya bahala siya dun. I don't have anything to say to that one.
"I'll be here, very supportive and I'll just be at her back always."
But on working with her, Robi says, "Okay, that's the deal. Ganito yun. She's gonna be a part of the pool of Balls [ABS-CBN's sports cable channel], very, very soon.
"And she's gonna be doing sports hosting and anything related to sports and reality and games.
"Our deal was for her not to go to my sphere: gameshows, reality shows, variety shows.
"Sabi ko, 'Wag ka pupunta dito kasi kung hindi, mag-aaway tayo. Mag-aagawan tayo…"
Is he afraid of "competing" with Gretchen? Robin clarifies, "Not just competition. In working kasi, it's different for me, e.
"I like to separate, I like to put a line between working and having that sphere of my personal life."
On the qualities he admires most about Gretchen, Robi says, "She's very... I guess, the word that strikes me is very 'independent.'
"She knows how to handle things by herself. She's really caring, she's all for the team.
ADVERTISEMENT - CONTINUE READING BELOW
"I mean, what's one thing I won't like about her? Nothing."
The I Dare You host was hesitant about sharing what they did for Valentine's. "I'm not sure if I can divulge that information, e," he said.
But Robi's greatest gift to Gretchen: "Give my own time. Give my own time for her. My own time is the best gift."
How much time does he spend with Gretchen? "As much as possible, every time that I have.
"Every free time, every moment that I have, I'll give it to my family, my friends, and the people that matter to me the most."