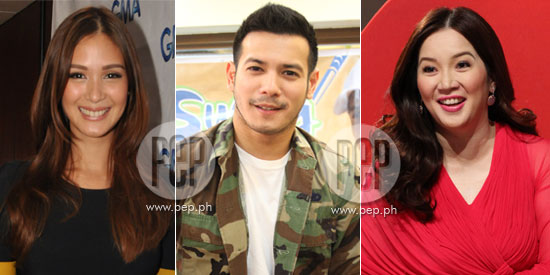 ---
It's been a whirlwind week for showbiz with controversies erupting one after the other.
Someone has observed that three of the stars involved in these discords were born on the same day—February 14.
We have a natural predilection for apophenia or the tendency to seek patterns and meaning from random data.
For what it's worth, PEP.ph (Philippine Entertainment Portal) breaks down how Kris Aquino, Heart Evangelista, and John Prats—all born on February 14—got involved in spats this week.
Kris is now 42, and was born in 1971; John is 29, and was born in 1984; and Heart is 28, and was born in 1985.
KRIS AQUINO. People who celebrate their birthday on February 14 fall under the zodiac sign Aquarius.
According to Astrology.com.au, people born under this sign are "forward thinking and self-directed."
It also says, "Communication is your specialty and you relate well to the world," which may well describe Kris Aquino, whose title in showbiz is "Queen of All Media."
Furthermore, it states, "You find it difficult to uphold relationships with those who aren't prepared to evolve in the same way as yourself."
Kris, 42, was married to PBA player James Yap in 2005, had a son with him the following year, but had their marriage annulled in 2010.
It was assumed that both parties have moved on with their personal lives, especially after the nullity of their marriage was declared in February 2012.
But the public got a bit of a shock when reports appeared saying that Kris had filed a Temporary Protection Order against her former husband, James Yap, preventing him from seeing their five-year-old son Bimby for 30 days.
ADVERTISEMENT - CONTINUE READING BELOW
Then came Kris's additional petition for a Permanent Protection Order. For a rationale, the petition used an incident which allegedly occurred last December 3, 2012, noting that James "overstepped his boundaries."
James, for his part, was incredulous about the indictment hurled against him but was resolved about fighting for his visitation rights.
Last night, March 21, Kris, along with her three sisters, appeared before Ted Failon and Jessica Soho—in separate interviews on primetime newscasts TV Patrol (ABS-CBN), 24 Oras (GMA-7), and State of the Nation (GMA News TV)—to air her side of the story.
On national TV, Kris declared that she "felt violated as a woman," in relation to the December 3 incident with James, and announced that she will be quitting showbiz.
HEART EVANGELISTA. Meanwhile, Astrology.com.au also states about Aquarians: "You're a born revolutionary so no one can tell you how to live your life.
"You want to express your ground-breaking spirit in everything you do but unfortunately you won't always able to break free of the limits that are imposed upon you.
"In some extreme cases Aquarians are controlled and dominated by others throughout the formative period of their lives which is why it's so difficult for them to submit to others.
"If you're not able to live your life on your own terms, you'll dream and aspire to a future time when you can fulfill your destiny to the fullest in exactly the way you want."
In an interview last March 6, after Heart renewed her contract with GMA-7, she proudly mentioned how she is now more independent.
ADVERTISEMENT - CONTINUE READING BELOW
She was even quoted as saying, "Ako yung nasusunod na ngayon, e. She listens to me now."
The "she" that Heart was referring to was her mother, Cecile Ongpauco, who also stands as her manager.
So it came as a shock last Tuesday, March 19, that Heart's parents, Rey and Cecile Ongpauco, called for a press conference to announce their disapproval of Senator Chiz Escudero's relationship with their daughter.
Heart's mom has been known to disapprove of Heart's previous relationships, most notably those with actors Jericho Rosales and Daniel Matsunaga.
Having left her condominium unit in Makati and having severed communication lines with her family, Heart now seems intent on asserting herself.
After Senator Escudero retorted to Mrs. Ongpauco's denunciation, the latter once again organized a presscon yesterday, March 21.
Mrs. Ongpauco reiterated her message to Chiz to leave Heart alone.
Without making any statements about the issue, Heart tweeted: "Today, tomorrow and the next will bring me heartaches...why try to take away my happiness..."
JOHN PRATS. Amidst the issues about Kris Aquino and Heart Evangelista, another February 14-baby got involved in a tussle.
John Prats—who was, incidentally, Heart's boyfriend a long time ago—filed a complaint against fellow ABS-CBN talent Jason Francisco at the San Juan Police Station last night, March 21, after the latter supposedly slapped him.
John related that his relationship with Jason was congenial prior to that slapping incident, and said that he was completely shocked by his former Banana Split co-star's actions.
ADVERTISEMENT - CONTINUE READING BELOW
They will later find out that Jason's actions were motivated by John's treatment of Jason's ex-girlfriend Melai, who is said to have been teased once too often by John.
In his defense, John explains that they often make fun of each other on the set and that they take it all as a joke.
But John was indignant after the assault and said he was determined to teach the former PBB housemate "a lesson."
WRITTEN IN THE STARS? Astrologyzone.com by Susan Miller, forecasting the fortune of Aquarians this March, may have some explanations for the events that have taken place.
It states: "The first clue that something is up will be the meeting of Mars and Uranus, your ruler, in Aries, in your third house of travel, communication, and contractual agreements.
"I would suggest you not drive far on this day as you may encounter someone on the road who will not obey traffic rules, and this could cause you considerable stress.
"It's also a bad time to negotiate a contract, for you are likely to come to a clause that makes both upset.
"The emotion won't help matters, so on this Friday, March 22, you may want to separate to think about how to handle any disagreement.
"I should say here that when you deal with Uranus, the planet of surprise, you can never quite anticipate which way things will go —it is possible you will love the surprise that comes up, but it seems unlikely."
ADVERTISEMENT - CONTINUE READING BELOW
"Mars is an aggressive planet, and Uranus is explosive, so the combination of these two planets usually brings on a hot situation."
Three celebrities born on the same day, all caught in a hullabaloo at the same time.
It's not surprising that some people should think that stars and the planetary alignments had a hand in these incidents. But then again, it may simply be mere happenstance.
At the end of the day, it's up to us what to believe.