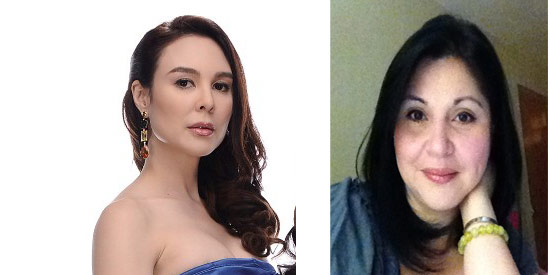 ---
Tania Montenegro, in a text message to PEP today, April 28, says that her decision to defend Gretchen Barretto is motivated by "purely friendship."
The 42-year-old Tania, the older sister of Nadia Montenegro, was in the same batch that Gretchen, 43, was in at the Colegio de San Agustin throughout their grade-school years.
Tanya would go on to enter high school, but Gretchen would enter the world of endorsements in 1982, at the age of 12, and the world of showbiz in 1984, at the age of 14.
They would cross paths quickly enough again, when Gretchen signed up with Lily Monteverde's Regal Films and Tania signed up with Cheng Muhlach's Morning Star.
While they made no movies together, Tania says in the text message: "We were always together. I would visit their set while they were shooting 14 Going Steady and Gretch would visit our set while Aga [Muhlach, son of Cheng] and I shot Campus Beat."
Tania stayed in showbiz for only three years. By 1987, she left to have a private life. "I became pregnant to my daughter who is now 25 years old." But, Tania says, she and Gretchen remained tight friends.
(CLICK HERE to read related article)
The article, posted in PEP yesterday, April 27, has reached unique pageviews of at least 218,000, referring to the number of individual Internet Protocol (IP) addresses; and more than 269 comments as of 2:25 p.m., today, April 28.
The PEPsters—the name by which PEP readers and commenters are called—have been divided.
Those who spoke positively about Tania included, posted as is:
joyce000: thank you so much miss tanya montenegro hindi dahil sa pagkampi mo kay Gretchen…ayun ay dahil sinabi mo ang dapat malaman ng mga tao. ANG KATOTOHANAN. salamat Tanya.
Rubytuesdaypm: Gretchen has been demonized by his own mom and sister, bashed by haters and I am not even a fan but nadia's [tanya's] story sounds more credible.
ADVERTISEMENT - CONTINUE READING BELOW
Those who spoke negatively about Tania included, posted as is:
opinion_koh: SANA TANYA WAG KANA SUMAWSAW NAKAKA AGGRAVATE KA SA SITUATION....SANA NAG DECLINE KANALANG SA INTERVIEW YOUR ADDING FUEL TO THE FIRE..TSK TSK TSK
angelamarie1: walang bayad kapag nag-decline, baka mabawasan pa ang pagkagenerous ni gretch
allknowing1978: Dude, binayaran yan! Sobrang coherent ang kuwento!
Reacting to posts she read here and in Instagram, Tania called PEP editor-in-chief Jo-Ann Maglipon to address a few points.
She also said that her sister Nadia was hurt by the comments accusing their family of getting paid by Gretchen in exchange for defending the embattled star.
This is Tania's complete text message to PEP, the Philippine Entertainment Portal, posted as is, except for paragraph breaks introduced for easier reading:
"When PEP called and asked me to make kwento about Gretchen and the issue she's going through right now I only said what I know and what is in my heart and knowledge.
"My defending Gretchen has nothing to do with anybody but me and Gretchen alone.
"Gretchen had always been my friend all throughout and there was never any money involved between us.
"It was purely friendship.
"My defending Gretchen has nothing to do with my family nor with Nadia.
"Wala naman sigurong masama na lumabas at magsabi ng totoo tungkol sa isang malapit na malapit na kaibigan.
"Like I said, our 30-year friendship has gone through its ups and downs but our love for each other had always surpassed the storms.
"I only spoke of what I saw and witnessed. My opinion has nothing to do with my family or anybody else for that matter.
"My family lives a simple life. We all make our own means of making money.
"My mom has retired from working in the U.S. and receives her pension twice a month (FYI: my mom was a federal employee in the U.S.).
ADVERTISEMENT - CONTINUE READING BELOW
"My daughter is a Psychology graduate and is now working.
"My sister Katia works as associate producer for ABS-CBN.
"My brother is an architect.
"I have my own business and Nadia's daughter Ynna is doing well in her career, her eldest Yssa will soon be a dentist.
"So to those who say na kapit sa patalim kaya ko ginagawa ito for Gretchen, I'm so sorry to disappoint you guys because true friendship needs no amount of money.
"Remember Gretchen was already a friend when we were all still struggling students and way before Tony [Antonio "Tonyboy" Cojuangco Jr.] entered her life.
"Like I said there has never been any money involved in my friendship with Gretchen.
"Our friendship goes back since we were in Grade 1 at Colegio San Agustin.
"So to those who have nothing good to say, God bless you all and look around and hope that whatever is happening to Gretchen's family does not happen to yours."
(Ed's Note: We are correcting ourselves on the spelling of Tania Montenegro's name. Previously, we had spelled her first name as Tanya.
Tania, like her sisters Nadia and Katia, spell their names with an "i." We intend to make corrections on previous articles misspelling Tania's name.)