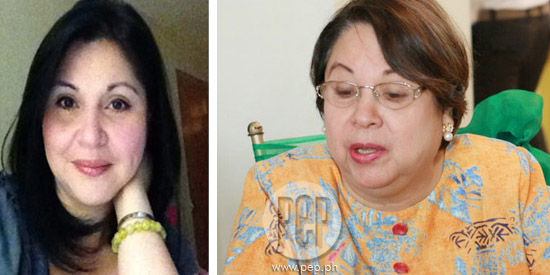 ---
"Sagad na kami! We don't really waste our time on these things…"
This was the initial reaction of Mrs. Estrella "Inday" Barretto to the PEP.ph (Philippine Entertainment Portal) request for an interview, sent via text message on April 27.
PEP managing editor Karen Pagsolingan had sent the text message to get Mrs. Barretto's reaction to statements made, also here on PEP, by Tania Montenegro, a close friend of Gretchen Barretto.
(CLICK HERE to read related story)
Mrs. Barretto and her daughter Gretchen have long been at odds with each other, except for intermittent periods of peace. Currently, however, the mother has been raking the daughter over the coals right before the eyes of the public.
But after giving it some thought, Inday decided she would grant PEP an interview, which happened yesterday, April 28, via telephone.
"I don't know much about it. What has she been saying?" Inday began.
We enumerated Tania's claims: "Hindi raw po nakakabayad ng tuition si Gretchen on time nung nasa grade school siya? Wala rin daw pong chauffeur…"
Before we could finish, Inday threw in, "So, she refuted it? How does she know? Does she come to our house?"
Earlier, on April 26, another daughter, Gia Barretto-Reyes, had written a letter to the press stating that Gretchen could not have been the family breadwinner, as the latter's camp had claimed, because the Barrettos were so well-to-do, the children moved around in "chauffer-driven" cars.
"Alam ko, pini-pick up lang namin sila [Tania] noong araw on their way to work…
"Now, if you ask me to make a comment, ang masasabi ko lang, the problem with lies is you have to build it up with some more lies."
But Inday said she wasn't surprised at all that Tania would say those things. She said she was used to Gretchen's "usual tactic" of having friends like Tania come to her defense in a fight.
ADVERTISEMENT - CONTINUE READING BELOW
Inday continued, her voice calm, "Who is she [Tania] and where did she come from? She's not even a part of my family!
"She's away-bati, away-bati with Gretchen. They are the ones who used to malign her!"
The matriarch of the Barretto family was alluding to a huge, if old, misunderstanding between Gretchen and Nadia Montenegro, Tania's younger sister, that left the friends not speaking to each other for a time.
"The only trouble I had with them is once or twice [I had] to defend Gretchen, and [now] out of nowhere, she [Tania] comes!
"So it brings me back to saying na the trouble with lying is to tell more lies to back it up.
"And if you're not credible, be it Gretchen or anyone, you have to hire 'character' kind of people to pull you up."
Her voice rising, she said, "Ano ba 'yan, that's a desperate act!"
Then, turning calmer, Inday intoned, "If it makes your personality not credible, you will have to buy fake people to do it for yourself— even former enemies.
"'Yon lang ang masasabi ko."
"BREADWINNER." There is one issue, however, that she said she has been itching to correct for a long time.
This is the issue of who the breadwinner was in the Barretto family.
"It has been long overdue na dapat tahiin na. Kasi 'yong mga allegations, 'yong mga tanong sa Facebook ng [kung sino ang] mga breadwinner noon, that has been going on for more than thirty years already, twenty years…
"And before naman, my husband and I closed our eyes…"
But keeping mum, she said, just made the "rumor" bigger and bigger.
Inday also said she never thought the day would come when one of her sons, Joaquin, aka Jay-Jay, would ask her these questions in a letter released to the public one day after Inday's own letter was published in The Philippine Star:
ADVERTISEMENT - CONTINUE READING BELOW
"But who took over the role of her [Gretchen] parents, worked at the age of 12 and gave up her education to put her siblings to school?
"Who put food on the table, paid for the rent, electricity and hospital bills when dad suffered from his heart condition at least two times?'
Sounding genuinely sad, Inday said, "I don't know kasi 'yong sinabi. Ang most damaging sa akin do'n, 'yong sinabi…
"Ah, as for the one that I want to correct, na 'yong sinabi nga ni Joaquin, is all lie!
"Then to support that with a fact, ang sinasabi at the age 12, she stopped schooling to work, to help the family, and she became the breadwinner? She had to put food on the table, pay for electricity, the schooling of the children, and etc?
"So, may I just correct it, if you will help me?"
First, the age of Gretchen cited by Jay-Jay is wrong, the Barretto matriarch said.
Explaining, she continued, "At age twelve, she wasn't working yet. It was the first time she became a model of clothing line.
"She started really in showbiz when she was fourteen, and everyone knows [the movie] 14 Going Steady, and then one or two more movies so forgettable I can't even remember it."
(Inday was referring to Tender Age in1984 and Mga Kuwento Ni Lola Basyang in 1985.)
She said, "Her fee was twenty thousand [pesos], okay?
"She had a car, a driver, a maid, and clothes— all those, abonado pa 'ko.
"When she really started making money… So she couldn't, sorry ha, she couldn't have helped yet the family."
In short, asserted Gretchen's mom, the talent fee of the former Regal baby was not enough to provide for the family.
"By the time she joined show business, three of our children are already on their own, making their own living.
ADVERTISEMENT - CONTINUE READING BELOW
"How will you get away with all these? Tignan mo naman, pinapalabas niya, parang 'yong Tatay niya didn't handle the rent, the electricity, the schooling.
"When she has work, I want to correct that ano, when she started to work [at 12], she was an endorser or model of clothing line, which is Made in Heaven.
"She wasn't earning yet, abonado pa ko.
"It started when she was 14. The first movie was 14 Going Steady, she was paid fifteen [thousand] ata o twenty [thousand].
"Then she had a movie with Eddie Gutierrez, Eddie Garcia [actually, Eddie Rodriguez], tatlo 'ata sila na silang bata, basta gano'n… I don't even remember the forgettable movie. Okay, so another twenty thousand.
"And maybe, I don't know, she had commercial or endorsements.
"But all in all, it will not reach 100 thousand!
"She's also riding a brand new car, she has a driver, a yaya, we gasoline her car, her food. What is there to steal? There is nothing to steal!"
And by the time Gretchen turned 18, Inday said, Gretchen's money was no longer the matriarch's to handle.
"Alam mo, between 14, 15, 16, 17, I don't know what else ang ano niya… but when she turned 18, she was not with us anymore.
"She lived in already with Joey Loyzaga! We were already in Iloilo.
"I don't handle her money. I don't have access with her money. I don't even know how much she was earning.
"So she could not at all pay for our rent and all those things.
"This money she got from these two or three movies she had, you can dig it up, it's not enough to pay for her lifestyle. My god, ano ba naman!"
"NAGHIHIRAP"? Another long-standing rumor she resents is the one that says she and her husband Miguel decided to reside in Iloilo because "naghihirap kami."
ADVERTISEMENT - CONTINUE READING BELOW
"It's because we retired and we are going to… my husband wanted to do some farming.
"Tapos na rin kami sa ano namin no'n e, sa mga tungkulin namin sa mga bata, e.
"So, that's all of it. It's not because we were poor!
"We were there because Mr. Barretto retired, and my hometown, may lupa kami dun.
"So, hindi [dahil sa] mahirap!
"Ano ba sila, excuse me, do we have to prove!"
PEP asked, "Paano po yung allegation na napapahiya si Gretchen sa classroom kasi hindi siya nakakabayad ng tuition?"
Inday retorted, "Iisang school pinapasukan nila [magkakapatid], hindi binayaran ang tuition niya? Ano ba naman 'yan? Alam mo, you let them write it, they will be the laughingstock!"
SELLING GRETCHEN'S PROPERTIES. Inday also hit comments saying "binenta ang property ni Gretchen" as hearsay.
She related, "We had two lands in Acropolis. We did [sell] it and used the money.
"We also have [in] Ayala Alabang, we also have in Iloilo. Gano'n ako, e, kami ng husband ko.
"I put a down payment for a lot in Acropolis, okay. After that, the price went up. When it went up already, I sold it because that was an investment ano on my part...
"Who told her that was hers? She couldn't afford to buy a lot in Acropolis! So if I sell it, how did she comprehend that it was hers?
"It was never mentioned that she owned a land in Acropolis, and does it mean na because she is working, every time I am buying anything, sa kanya na 'yon?"
GRETCHEN IS "KAWAWA"? We went back to Tania's recollections of Gretchen's childhood.
Inday was quick to pick up: "Na kawawa siya? Ginamit? We told her pa to stop schooling…
"That's not true!
ADVERTISEMENT - CONTINUE READING BELOW
"That's what's been talked about na, 'Ano naman ang ginawa nila sa batang iyan? Napaka-kawawa, that and that…'
"But that's a very self-serving, very self-serving ano. Hindi totoo 'yan! And many can attest to that.
"At this point, I really don't need to prove anything.
She burst out, referring to her son Jay-Jay's open letter siding with Gretchen: "Ang ikinakainis ko, 'yong sabihin pa doon na being dictated pa raw [si Gretchen], and hindi na raw ako dapat nag-ask [ng money].
"[Tanong pa sa akin] hindi ba ako dapat, as a mother, I should have stopped it? I did not [daw] because we used her to put food on the table!
"Sus, ano 'yon? Hindi kami poor! My husband fed us so well!"
As if to make light of the situation, Inday jested, "Ano ba ang problema nila? Nagpapa-lipo pa nga sila sa katabaan."
We asked: but why would Gretchen think of herself as kawawa?
Inday scoffed, "Forty years, thirty years na yun ang mantra niya. Sinasabi [ni Gretchen]. Walang naniniwala sa kanya—siya lang.
"She paid this Tania Montenegro! I don't know for how much! Walang naniniwala.
"I don't want to turn that bad. I cannot answer that in all conscience dahil ikasisira niya.
"Masyado na siyang magmumukhang masama sa pamilya at mundo ni Tony [Tonyboy Cojuangco, Gretchen's billionaire partner]."
LEAST FAVORITE CHILD. Jay-Jay and Tania have both insinuated that Inday has always favored her other children over Gretchen.
Jay-Jay's letter asked Inday point blank: "Did you ever once stop her from doing all that because you loved her and wanted to protect her just like what you are now doing for Claudine?"
Tania recounted: "Nakikita ko yung mga kapatid ni Gretch [Gretchen], nasa canteen, nagla-lunch at recess, bakit si Gretchen, it's either lunch or recess, ganyan? Lagi, lagi 'yan…
ADVERTISEMENT - CONTINUE READING BELOW
"Kung magkakaroon siya ng baon, kulang… It's either for one break. Hindi nakukumpleto yung ano niya, dalawang break."
Inday dismissed this as a non-issue."Ay, naku, talagang nakakadiri na 'yan!
"We're talking about what, forty years ago?
"Hindi naman ako ang nagpe-prepare ng baon, hindi naman ako ang nagpe-prepare ng sandwiches nila and everything. There was somebody doing that!
"Wala naman akong favorite sa kanila.
"Tapos naman, ako, [sa] lahat sa kanila, ano naman sila sa attention and protection from us."
Did she ever call Gretchen "maitim" and mean it as pejorative?
There was a very brief pause before Inday answered, "You know, the truth is, she's never maitim.
"I have a daughter who is really maitim, the eldest. She's [Gretchen] never been maitim."
As for the allegations of Tania that Gretchen was an "abused" child, Inday was equally dismissive:
"Parang getting out of the topic... It's a diversionary tactic."
Even the comments and posts on the social networking sites, she dismissed: "I just hear, but don't really read. I don't want to play that game, matanda na kami."
PEP asked: Just what will make things better between you and Gretchen?
Inday retorted, "Ay, Karen, are you asking that because she's making you ask that?"
We said, "No. It's just that a lot of things have been said about you and her…"
Inday didn't seem ready to answer the question.
Instead, picking up on the issue of Gretchen as "breadwinner," Inday Barretto said, "Masakit 'yon sa isang ina because, you know, it's not true, and many, many people know na it's not true. But this came out now."
Ed's Note: More of the Inday Barretto interview may be read in the article—"Mrs. Inday Barretto on going public: 'Masakit din, di na dapat ilalabas 'yon, but they asked for it."
ADVERTISEMENT - CONTINUE READING BELOW