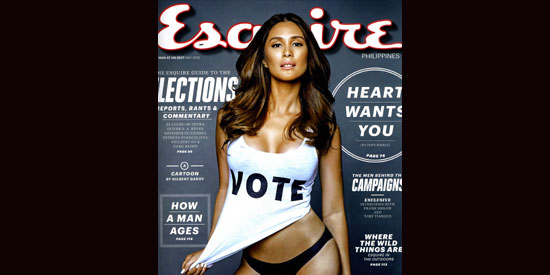 ---
Heart Evangelista pours her heart out on Esquire Magazine's May 2013 issue.
Being the woman of the hour—with her much-publicized against-all-odds love affair with Senator Francis "Chiz" Escudero and her love-hate relationship with her parents—the controversial actress, also finally sheds off her previous wholesome image and shows more skin, as revealed by her sexy, but tasteful photos found inside the pages of Esquire.
The pictures reveales Heart donned in two-piece undergarments complimented with seductive poses.
In the story written by Yvette Tan, the Kapuso actress talks about her recent decision to move out of her previous apartment—where her older sister is staying in one of the units—and transfer to an "undisclosed location," which not even most of her family knows about, said the article on Esquire.
Apart from that, the article also talks about Heart's decision to finally claim her independence in full—from simple stuff like managing household budget, to big decisions like choosing what projects to do, and sticking with the man she loves against her parents' wishes.
While she is still adjusting to her newfound independence—the Esquire article notes, "from a sheltered princess to an independent woman—the 28-year-old actress is very excited about finally being on her own."
Heart also talks about how she was whirled into the world of politics; which started when she established a friendship with Senator Miriam Defensor-Santiago, who became the "bridge" for her and current beau, Chiz.
Heart also relates how she and Chiz first met and how their love story bloomed.
She also opens up why her parents' relationship with Chiz, which was "fine" in the beginning, turned out sour and became ugly, which even came to a point where Heart's parents called for a press conference to air their disdain at Chiz and their disapproval of their daughter's relationship with the senator.
ADVERTISEMENT - CONTINUE READING BELOW
Though she is currently torn because of her feud with her family, Heart said that "she's the happiest she's ever been."
The actress also tells why she is certain—contrary to the opinion of many people—that Chiz is not using her for his political ambitions and the love they feel for each other is genuine.