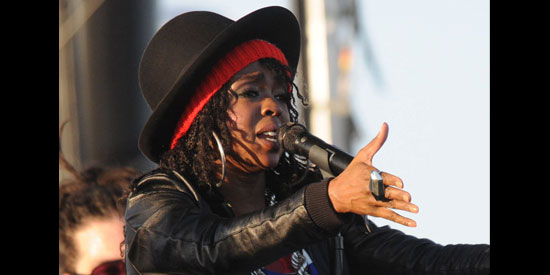 ---
Lauryn Hill has been jailed for three months for tax evasion.
The 37-year-old former Fugees singer was told by a court in Newark, New Jersey that she will also have to spend three months on house arrest and nine months of supervised release, despite her attorney claiming during the hearing yesterday (May 6) that she had managed to repay more than $970,000 of her debt.
Lauryn—who pleaded guilty last year to three counts of tax evasion for failing to file returns on $1.8 million she earned from 2005 to 2007—had asked for leniency because of her six children and charity commitments.
She insisted she had always intended to pay but couldn't return to music to earn the money because of her family.
She said: "I needed to be able to earn so I could pay my taxes, without compromising the health and welfare of my children."
She must report to prison by July 8, though it is not yet clear where she will serve her sentence.
The "Ready Or Not" hitmaker made a statement in court in which she compared her situation to slavery.
She said: "I was put into a system I didn't know the nature of. ... I'm a child of former slaves. I got into an economic paradigm and had that imposed on me.
"I sold 50 million units... now I'm up here paying a tax debt. If that's not likened to slavery, I don't know what is."