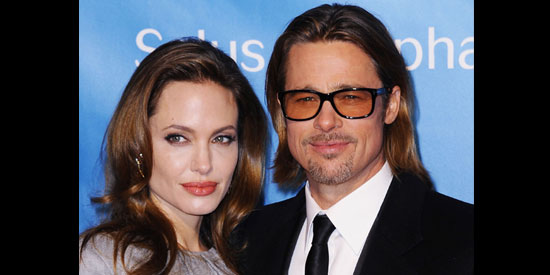 ---
Angelina Jolie and Brad Pitt are preparing to tie the knot following her double mastectomy.
The 37-year-old actress—who made the drastic decision to have both her breasts removed after she was identified as carrying the BRCA1 cancer gene, which gave her an 87 percent chance of developing breast cancer and a 50 percent risk of ovarian cancer—is planning to marry her 49-year-old fiance "sooner rather than later" after putting their wedding on hold so she could focus on recovering from the gruelling surgery and Brad could wrap up his latest movie.
A source close to the couple told the MailOnline website: "Angie is keen on a wedding and the kids are clamouring for a marriage and keep asking Brad and Angie when it's happening.
"Brad has been caught up in production turmoil with his new film World War Z, so there's been no wedding planning as a result, but Angie has said it will happen sooner rather than later.
ADVERTISEMENT - CONTINUE READING BELOW
"They are all for all intents and purposes married, but it's become clear that it's important to them to make it official."
Angelina decided to be tested for the gene because she lost her 56-year-old mother Marcheline Bertrand to ovarian cancer in 2007.
The Oscar-winning actress now only has a five percent chance of developing breast cancer and she admitted her children—Maddox, 11; Pax, nine; Zahara, eight; Shiloh, six; and four-year-old twins Knox and Vivienne—were a big motivation for her to have the surgery because she wants to see them all grow up.
HEROIC. Brad his fiancée as "heroic" for making the decision to have a double mastectomy.
The 49-year-old actor has nothing but admiration for his partner after she took the drastic option of having both her breasts removed.
Brad is delighted Angelina—who he has been in a relationship with since 2005—has made a full recovery from the operation and is looking forward to living a long, fruitful life with her and their children.
ADVERTISEMENT - CONTINUE READING BELOW
In a statement released to the Evening Standard newspaper, he said: "Having witnessed this decision first hand, I find Angie's choice, as well as so many others like her, absolutely heroic. I thank our medical team for their care and focus.
"All I want for is for her to have a long and healthy life, with myself and our children. This is a happy day for our family."
Brad's family are also "very proud" of Angelina Jolie for opening up about her double mastectomy.
His mother, Jane Pitt, admits she loves the 37-year-old Oscar-winning actress "dearly" and is happy that she made the drastic decision to have both her breasts removed.
Jane, who was previously said to be very close to Brad's ex-wife Jennifer Aniston, said in a statement to People.com: "We're so very proud of Angie, this means so much to our family especially our grandchildren. We love her dearly."
ADVERTISEMENT - CONTINUE READING BELOW
Meanwhile, Angelina's father, Jon Voight, thinks she is an "inspiration."
The 74-year-old Lone Star actor told E! News: "My love and admiration for her can never be measured in words. I think she is an inspiration to many people who are faced with the same situation.
"I think she is quite magnificent in the way she is handling this. She is taking care of things.
"She does careful diligence and she has this courage to gather information and make decisions from it. It has been very successful and I heard she was able to travel soon afterwards.
"She is an amazing person. She is also an extraordinary mother. She includes them [her children], when she can without scaring them, and makes it understandable to them.
"She will make a difference in so many people's lives. She will inspire many people."
Angelina's brother James Haven also voiced his support about her decision to undergo the procedure.
ADVERTISEMENT - CONTINUE READING BELOW
He said: "My sister like our mother always put her children first. I am so grateful to be her brother."