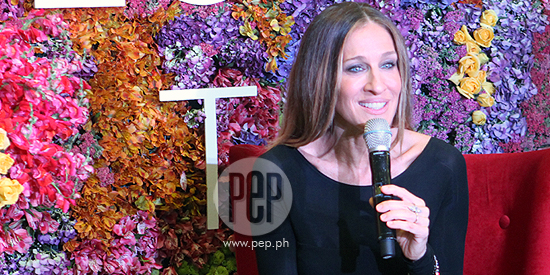 ---
In a rare encounter, PEP (Philippine Entertainment Portal) managing editor Karen Pagsolingan and section editor Demai Sunio-Granali were able to sit down with Hollywood A-lister Sarah Jessica Parker for a special episode of PEPtalk.
The meeting took place on May 16, at the Prestige Lounge of The SM Store, located inside the newly-opened SM Aura Premier Mall in Bonifacio Global City, Taguig.
The store's newest celebrity endorser looked elegant in her black dress, as she sat on the couch and eagerly waited to meet her interviewers.
As the hosts of PEPtalk approached to say hello, Sarah Jessica held out her hand to Karen and said with a big smile, "Hi, I'm Sarah Jessica Parker."
Her friendly greeting certainly set the mood for a cheerful PEPtalk interview, which you can WATCH HERE.
SARAH JESSICA PARKER ON PEPtalk. Here is the full transcript of PEP's interview with the "Carrie Bradshaw":
ADVERTISEMENT - CONTINUE READING BELOW
Karen: "Jessica, the first time you heard about this [endorsement] offer, what was the first thing that came into mind?"
Sarah Jessica Parker: "Uhm… an opportunity to come to the Philippines and learn more about the store and meet people that I've never met and have an exciting adventure."
Demai: "They call you now as the 'lady who loves to shop.' Can you tell us what is your favorite part of the mall, and when you step inside of a mall, where is your first stop and where is your last stop?"
SJP: "You mean in this particular mall or any mall?"
K: "Any mall."
SJP: "Well, we haven't had a chance to see all of the mall yet here, because there are a lot of people here.
"I think on the rare occasion that I really get to, I would probably look in the shoe department and uhm… I kind of like to see everything."
ADVERTISEMENT - CONTINUE READING BELOW
K: "You are a fashion icon. Is it hard living up to such kind of status or reputation?"
SJP: "Well… it's really not the way I think about myself, so it's not hard because it doesn't monopolize my thinking and my everyday life.
"I have three kids and I work, and so my relationship to fashion is more, I think, an enthusiasm that I have rather than what might someone think of me when I walk out the door. And I think that's probably a healthier way for me to think about myself.
"But it's… you know, I'm very flattered that people see a connection, and I know that's, in large part, because of the character that I played for a long time.
"And so, I'm comfortable with people associating me with fashion, but I tend to not… I think of myself as a wife and a mother and an actor and a business person— if that makes sense."
ADVERTISEMENT - CONTINUE READING BELOW
K: "Of course! But you still are a fashion icon."
D: "But off-camera, what would you consider as your default look?"
SJP: "In a sort of daily ritual of life, not for a special occasion— corduroys and jeans and something to get the kids to school.
"And then, you know, whatever's appropriate for meetings.
"I have a lot of meetings and so, you know, something that's presentable and respectful to whoever I'm meeting with. That's sort of the boiler plate for me.
"But on occasions like this, I think a lot about, you know, what I want to wear and what seems appropriate.
"And it's… still, after all these years, it's still really fun to get to borrow a beautiful dress. Like, I still love that very, very much. I'm not bored of that."
K: "Off-cam, what is it like to be Sarah Jessica Parker?"
ADVERTISEMENT - CONTINUE READING BELOW
SJP: "Uhm… it's probably like a lot of women that, you know, 'read what you write, hear what you say.'
"My life is not that radically different in a lot of ways, you know.
"Like I said, I'm a working mother and so, off-camera, I have three children that I'm responsible for, that I care a great deal about, and who are all in school and have projects outside school and recitals and school plays and [have] lunches to be fixed and pediatrician appointments to go to…
"But I also have, you know, I'm a business person so I have meetings and I have phone calls to return and letters to write and scripts to read and so… it's a mixture of both."
D: "You seem to be a very passionate mother, a very hands-on mom. Can you tell us what it's like inside the Broderick household?"
ADVERTISEMENT - CONTINUE READING BELOW
SJP: "Uhm, probably, once again, very much like inside the home of any family that has three kids— it's busy, it's chaotic and… but there is routine and we have our own rituals. And it's very happy, there's usually music and usually something cooking.
"And, you know, good sibling disagreements and me mediating and… like all that stuff."
K: "You have one of the most admired marriages in Hollywood. What's the secret?"
SJP: "(Laughs) Probably that I don't talk about it."
K: "So, it's really a secret."
SJP: "Yeah, really a secret (laughs). And maybe 'cause we're not really a Hollywood couple, we live in New York. Maybe that's good."
K: "Is there going to be another installment of Sex And The City?"
SJP: "I don't know. I really don't know. I'm not even being cagey. I really actually don't know."
ADVERTISEMENT - CONTINUE READING BELOW
K: "Any message for your Filipino fans? I'm sure they are thrilled that you're here now."
SJP: "Awww… Well, if anything, just… I've loved so much being here, and I've loved my time in Manila. I wish we had more time. I think it's one of the most exciting places I've been in a really, really long time.
"And I thank everybody for their hospitality and their kindness and I hope to have the opportunity to come back again very soon and learn more and see more and eat more."
K&D: "Thank you."
SJP: "My pleasure. Very nice to meet you, guys."