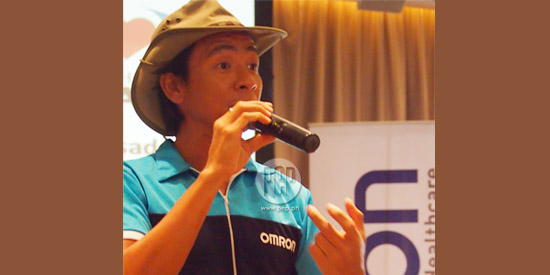 ---
Straight from Showtime, Kuya Kim headed to Makati Shangri-La Hotel for his press launch as the brand ambassador of Omron, a blood pressure monitor.
His arrival didn't find any need for introduction.
The eldest of Cong. Lito Atienza readily held the microphone and began entertaining the small crowd with his stories full of wisdom and witticisms.
Kuya Kim was in his element—a far cry from the person who, six years ago, ventured into TV hosting because of politics.
During the interview held earlier, July 9, the weather man of TV Patrol began, "They say nga na that showbiz is mapulitika.
"That's nothing compared to real politics. The real politics, they like to kill your character or your body.
"In showbiz, intriga lang 'yan, e, wala 'yan.
"It depends on how you carry yourself also. May mga taong takaw-intriga, e, ako, hindi. Depende rin sa pagdadala."
So far, most things being thrown his way have been manageable.
He resumed, "Ang worst nangyari sa 'kin, I was in Boracay, I was touching my nose, ganyan, o [touches the side of his nose], nakunan ng litrato!
"Nangungulangot daw ako, hindi naman."
The function room resonated with laughter.
"Nasa Internet yun, e. Hindi ko naman pinasok, nagkakamot lang ako, e, paparazzi pala, ganyan o, 'Si Kuya Kim, nagda-dial.'
"Pero as far as personal intrigue, wala. Family man. Hindi ako takaw sa intriga."
Between the two worlds, which is better?
"I like showbiz!
"And I'm happy that I'm in television because there was a time when I really wanted to be in it.
ADVERTISEMENT - CONTINUE READING BELOW
"This is in the '80s and the '90s, you have to be an Aga Muhlach or a Richard Gomez to have a break, e.
"Hindi naman ako pangit pero hindi rin ako guwapo, but I've become Kuya Kim and I'm happy."
FROM "EXPOSURE" TO FAME. He was in his late 30s when he decided to become a "TV star."
His motivation was— politics!
Kuya Kim recounted, "My Dad was mayor [2007] in Manila, so wala na siyang kapalit, he was already graduating, third term ni Dad sa mayor.
"I was supposed to be the kapalit, ako'ng panganay na anak, e.
"And then sabi ko, 'How do I get elected, e, hindi naman ako… Ano ako, e, hilaw.'"
That was when he approached some friends in ABS-CBN.
Continuing his story animatedly, "Sabi ko, 'Give me a segment. Give me an exposure.' Like any politician, gusto ng exposure para sumikat.
"And then, my friend was one of the guys in news, sabi niya, 'Let me suggest your name, you might be in the morning show.'
"What am I gonna do in a morning show? So I thought about it.
"'Alam ko na, I have an idea. My idea is this…'"
His peg was the late crocodile hunter Steve Irwin, and "naka-sumbrero ako palagi."
His pitch was: "Make me the Steve Irwin of the Philippines.
"'Eto 'yan, Dad is mayor of Manila. I have access to the animals. Di natin ipapakita sa channel 7 'yan, atin lang.'
"So I can play with the animals and be like Steve Irwin, with access to Manila Zoo.
ADVERTISEMENT - CONTINUE READING BELOW
"There can be an animal segment…"
His idea was called "Animalandia," a segment for Magandang Umaga, Pilipinas.
"So yun, I was playing with the animals, naku, naging hit."
His first hosting stint, however, was without any pay because "vested interest, I wanted exposure."
Kuya Kim elaborated, "And then after six months, the boss of News then was Maria Ressa…
"Maria met with me, 'Mr. Atienza, I'd like to sit with you. I like you. I like what you do, but I know what you're doing.'"
His "dedma" reply: "What, Ma'am?"
Maria supposedly said, "You're running for politics. You're running for mayor. You're using news and current affairs for exposure. I will not allow that.
"But since I like you, here's the contract. I'd like you to work for me, and keep on doing what you're doing, but, you cannot be in politics."
His thought balloon: "How do I tell my Dad now? Naku, pa'no ko tatalikuran Tatay ko?
"Nakalabas na poster na nun, e. Kinakampanya na 'ko nun, e…"
FROM DAD'S NEXT IN LINE TO KA ERNIE'S "KAPALIT." Kuya Kim deemed the offer as a "major life decision," so he asked for a sign.
"A few days after that, I was doing the morning show… I was doing people na, hindi na puro animals. Ginawa na akong ano, e, tao na yung ini-interview ko, hindi na hayop.
"Kasama ko si Winnie Cordero. We were sent to the house of Ernie Baron.
ADVERTISEMENT - CONTINUE READING BELOW
"Si Ka Ernie nun, malakas pa pero medyo mahina ang mata. Nagpaayos ng katarata, so medyo malabo, hindi makabasa ng prompter.
"So we were gonna give him the Magandang Umaga Bayan Award, 'eto, si Ka Ernie—'eto, eerie 'to— nakaupo under sa pyramid.
"May pyramid sa bubong ng bahay yun, e. Nakaupo siya, roll ang camera, 'Magandang umaga, bayan, nandito kami sa bahay ni Ka Ernie Baron. Ka Ernie Baron, heto pong award.'
"Kami ni Winnie Cordero. 'Yung award para po sa inyo para po sa serbisyong pinakita niyo sa…'
"Tahimik yung mama. This is on film. Naka-archive 'to sa ABS, ha.
"[Ernie said], 'Bata, upo ka rito.'
"Umupo ako. Continuous. Live.
"[Ernie added] 'Bata, ang buhay, may hangganan. Si Ka Ernie Baron, puwede na akong mamatay.'
"Si Winnie, nag-iiiyak, 'Kuya Ernie, ano'ng sinasabi mo…'
"Ako naman, kinikilabutan ako. Sabi ko, 'Ano ba 'to?'
"[Ernie continued], 'Puwede na akong mamatay. Kasi meron na akong kapalit, ikaw.'
"Hay, naku, this was live on TV. Nag-iyakan yung crew. Hindi ko alam, kinikilabutan ako. Sabi ko, 'Lord, matindi 'tong sign na 'to.'"
But Kim had to ask for another sign.
"Kasi Tatay ko yung tatalikuran ko, ang hirap nun, ha!
"How do you say no to three generations of politicians? My lolo [Jose J. Atienza Sr.] was politician, Dad was politician, I was being groomed as the next politician… the next mayor.
"How do I say this? Nagdasal na naman ako, sabi ko, 'Lord,' nagpunta ako sa Malate Church, 'Lord, isa pa. Isa pang sign. Malabo, nakikita ko na.'"
ADVERTISEMENT - CONTINUE READING BELOW
The answer came one month after Ka Ernie's pronouncement.
"This was January 23, January 24 is my birthday. Alam ko sa morning show kasi, pagka may birthday diyan, pinapaiyak ka diyan, e. Ilalabas nila yung Nanay mo, Tatay mo, iyak ka… ganun yun, e. Yung line producer then was Noel Ferrer."
(Noel is presently the talent manager of Ryan Agoncillo, Iza Calzado, Edgar Allan Guzman, Luis Alandy, Marco Alcaraz, Paolo Bediones, and Chris Tiu.)
Moving on, "Tumawag si Noel Ferrer, but I was expecting the gimmick already, gabi ng January 23, 'Kim, nabalitaan mo na?'
"Sabi ko, 'Ano yun? Ano yun?'
"'Kim, Kuya Kim, namatay si Ka Ernie'
"'Uy,' sabi ko, 'Pag gigimik kayo, wala namang ganyanan. Pangit na gimik 'yan.'
"'Ano'ng pinagsasabi mo, namatay si Ka Ernie, inatake sa puso ngayon lang.'
"My god, he died the day they're preparing for my birthday. May birthday, there's death. Ganyan 'yan, e, parang may kapalit.
"Sabi ko, 'Lord, yun na yun.' Ang linaw, 'no!"
FROM "MAYOR" KIM TO KUYA KIM. Telling his Dad became the hardest part.
But the former mayor of Manila spared him from further stress.
According to Kim, his Dad's words were: "…Huwag mo nang sabihin. Huwag mo nang sabihin. Huwag na. Ayos na. Masaya ka diyan.
"Your Mom and me, your family, we are so happy for you.
"When I watch you on TV, I see your happiness. And sa 'yo na yun, okay na yun. We'll be okay."
It was Ali Atienza who ran against then-Manila Mayor Alfredo Lim in the May 2010 elections.
ADVERTISEMENT - CONTINUE READING BELOW
Half-joking, Kim said, "That's the reason why my brother had to run prematurely. Talo tuloy."
Then, turning serious, he continued, "I had that guilt for three years. I carried that guilt. Feeling ko kasalanan ko.
"But, for all we know, baka ako natalo rin, e, alam mo yun. But Ali is happy now, he's a councilor. And dad is back in politics. He's a congressman."
When will his turn in politics be?
"Absolutely, I've cut off my ties with politics.
"When I signed my contract with ABS-CBN, part of the contract was for me to be in a presscon, pinag-presscon ako ng ABS-CBN nun, and to denounce politics.
"I have nothing to do with politics anymore.
"That's when they allowed me to work for ABS-CBN."
Even in the future? "No."
Even if they offer him a government position? "No."
The "Matanglawin" underlined, "I'd rather be Kuya Kim than Senator Kim or whatever… Mayor Kim."