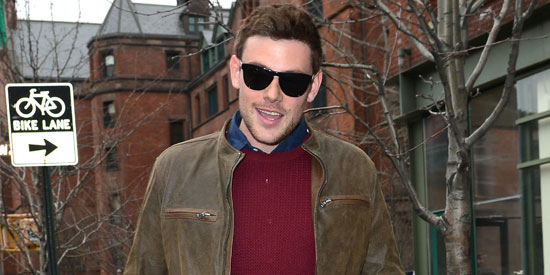 ---
Rihanna, Taylor Swift, Demi Lovato, and Selen Gomez are among the dozens of Hollywood stars to pay tribute to the late Cory Monteith.
The Glee star, 31, who voluntarily checked in to rehab for a month to battle drug addiction and was released in April, was found dead in his hotel room in Vancouver, Canada, on Saturday (July 13).
Rihanna, 25, wrote on Twitter: "Cory Monteith, may your spirit be at peace, and may you fly with the angels... Heart-breaking, my prayers are with all of his loved ones!"
Taylor, 23, tweeted: "Speechless. And for the worst reason."
Demi, who has also been to rehab to battle depression in the past, wrote: "#RIPCoryMonteith... So unbelievably tragic."
She added that her prayers are with Cory's girlfriend of one year and co-star Lea Michele, 26.
Selena tweeted, "This hurts. I love you Cory. Rest in peace. My thoughts and prayers are with you and your family."
Kaley Cuoco, Olivia Munn, and Kim Kardashian also expressed their sorrow after hearing the news.
The executive producers of Glee released a joint statement to People.com, saying: "We are deeply saddened by this tragic news. Cory was an exceptional talent and an even more exceptional person. He was a true joy to work with and we will all miss him tremendously. Our thoughts and prayers are with his family and loved ones."
Matthew Morrison, Cory's co-star in Glee, paid tribute to the actor on stage in New York on Sunday.
The Glee star and singer admitted it was "awkward" to be performing so soon after the death of his "brother" and co-star Cory.
ADVERTISEMENT - CONTINUE READING BELOW
The 34-year-old newly engaged actor told the audience at the 54 Below club in Manhattan: "You guys came to see a show, I came to perform a show, so that's what we'll do. And we'll do it in Cory's honor."
He also expressed his sadness and offered his condolences to Cory's family and girlfriend Lea Michele, and gave a two-fingered salute before performing the song "What I Did For Love" a cappella, according to the New York Times blog.
Cory's other Glee co-stars are also devastated by the Canadian actor's death.
Harry Shum Jr., who plays Mike Chang, tweeted: "At this time, please send nothing but love and light. This tragic news still doesn't seem real to me. I love you Cory.
Dot-Marie Jones: "I HAVE NO WORDS! MY HEART IS BROKEN CORY WAS NOT ONLY A HELL OF A FRIEND HE WAS ONE AMAZING MEN THAT I WILL HOLD CLOSE TO MY HEART FOREVER"
Lauren Potter, who plays Becky, tweeted: "I am totally heartbroken right now. I love Cory so much this hurts my heart."
Romy Rosemont also tweeted: "Cory was a gentle, sweet soul & I am grateful to have had the chance to play his Mom. My heart is w/ his family, his Glee family & sweet Lea"
According to police, Cory, who checked into the hotel on July 6, was out with friends in the city on Friday night and returned to his 21st floor room in the early morning hours alone.
ADVERTISEMENT - CONTINUE READING BELOW
It was also said that he had been dead for several hours by the time his body was discovered by staff at the hotel, who went to his room after he missed his checkout time.