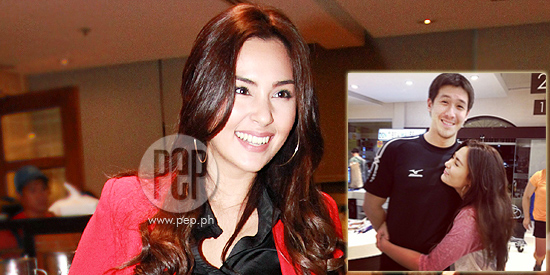 ---
The problem with Gwen Zamora these days is that she's "too happy on the set"—and it does not help because she plays the resident mean girl in the upcoming GMA-7 soap, Binoy Henyo.
The Filipina-Italian actress, who turns 22 in August, takes on a kontrabida character in the new early primetime series series that also stars Sheena Halili, Luis Alandy, and new child actor David Remo.
Gwen begs to disagree that Emily, her character, is a typical villain.
"Hindi siya kung kontrabida na nananakit ng mga tao, yung nananampal, yung sumisigaw.
"May pinaghuhugutan talaga siya," the actress described her character—a woman in her mid-thirties.
In the soap, Emily and her husband Francis (Luis) will struggle to have kids—the root of Emily's insecurity, especially that she knows Francis's former flame, Agnes (Sheena), gave birth to a son.
In the course of the story, a scheming Emily will prevent Francis from finding out about Agnes and his son, David, an apparent boy genius.
ADVERTISEMENT - CONTINUE READING BELOW
While Gwen enjoys the challenge of playing her third kontrabida role—the previous in the defunct soaps Biritera and Aso Ni San Roque—the actress jokes that her blissful lovelife has not helped so far.
"TOO HAPPY" LOVELIFE. Asked how her one-year relationship is with non-showbiz beau, 26-year-old businessman Raymund Romualdez, Gwen dished out that everything is well.
"It's good! It's too good to the point that I'm too happy on the set.
"I'm supposed to be crying and sad but it got easy on the third day 'cause we taped for three days consecutive.
"That's when I started to cry okay na, kasi I missed my boyfriend so much," said the childlike Gwen whose giddiness started to show.
"We're really, really good friends before we got together.
"He was like my kuya, I was like his baby sister.
"It was really like… it was weird. It's weird but it's so much better than any other relationship I was in."
ADVERTISEMENT - CONTINUE READING BELOW
Prior to being an official couple, Gwen and Raymund were good friends for about five years.
What was the transition like from being friends to boyfriend-girlfriend?
The actress eagerly told, "'Cause we were super close to the point where paminsan, you'll see us hanging out, like watch movies... parang we were dating na but as friends.
"And then one day... I don't know.
"It just happened and we were like, 'Is this normal?'
"It felt so right yet so wrong because why would we risk our friendship and we were thinking, 'Let's not, let's not do anything yet… is it the right thing to do?'
"We were like… may checklist pang ganun!"
They took a risk, nonetheless.
Gwen said it best: "We took that leap of faith. And we weren't wrong."
FRIENDS AND LOVERS, CHANGES. Despite being lovers now, some things haven't changed between Gwen and Raymund.
ADVERTISEMENT - CONTINUE READING BELOW
"I still get those qualities from him!" the actress remarked.
"'Cause before, we'd always tell each other, like when I needed advice, he'd be like the first one I'd call.
"Even at 4 a.m., I'd still call him for some advice and he'd call me for some advice.
"At least now, we grow together. We advise each other, we help each other.
"So now, our bond is stronger."
She was nothing like this in her previous relationships, this being her third "serious."
Gwen shared, "I've been more caring and more attentive and I've become a better listener.
"Before, I was, in a sense, a selfish girlfriend.
"Whatever I wanted to do, wherever I wanted to go, I would go.
"And I wouldn't think twice about how my boyfriend would feel."
The difference is that now, Gwen takes Raymund in every step of the way.
ADVERTISEMENT - CONTINUE READING BELOW
"He's behind me. He's my constant [companion]."
A GOOD BOYFRIEND. Raymund, the son of Tacloban mayor Alfred Romualdez and stepson of actress turned politician Cristina Gonzales- Romualdez, has been nothing but a good influence on Gwen.
During the interview, the actress confessed being a shopaholic and a not-so-health-conscious person.
"He's teaching me how to save money because we're opening businesses together," said the actress.
"Before, I used to have a shopping problem.
"Now, when I'm in the mall, [I ask myself] 'Is it worth it? Should I get it?'
"And then if I'm at the verge of getting it, I'll call him.
"And then he'll give me pointers: 'Okay, if you need it, get it. If you don't, how much is it?'"
Gwen added, "And then I've become healthier.
"My lifestyle before was not… before, I used to go out a lot and stay up late.
ADVERTISEMENT - CONTINUE READING BELOW
"Now, I don't anymore."
Is Raymund a strict boyfriend?
"We're just very understanding," Gwen replied.
"He's my best friend.
"So, lahat ng mga kalokohan niya, alam ko. Lahat ng mga kalokohan ko, alam niya.
"And it works.
"Yeah, that's what I love about him."
Raymund, according to Gwen, is not one to get jealous of her admirers and her onscreen partners.
He has no reason to get jealous, said Gwen, because she makes sure to tell him everything.
"We text each other a lot.
"There can't be a day where we don't see each other…
"We make it a point to see each other every day if we can.
"We also text each other 'Good Morning' and 'Good Night.'
"During the day, we randomly text each other."
Even the actress feels secure in her relationship and it helps that she knew him as a friend early on.
ADVERTISEMENT - CONTINUE READING BELOW
Gwen said that she knew his ex-girlfriends before and even helped in introducing prospects.
"But I failed because I don't have too many girl friends," the actress recalled, laughing.
Shifting her expression to a more serious one, she said, "I know he wouldn't do what he did to those girls to me.
"Wala, I can see the change.
"With me, he's so caring, he's so maalaga.
"He was never like that with his ex-girlfriends. Never.
"I witnessed that, I was friends with some of his girlfriends.
"And with me, he's a completely different person. And me too, also."
POLITICS? It is not clear to Gwen whether her boyfriend will eventually get involved in politics like his father.
"I honestly don't know," relayed the actress.
Their conversations would, however, touch on the subject matter occasionally.
Gwen said, "I'm going to support him anyway. I'll support him whatever he does."
ADVERTISEMENT - CONTINUE READING BELOW
Finally asked if she would allow herself to be dragged into politics, Gwen smiled and seemed positive about the idea.
"I'll have to study first.
"I don't mind if I'm a little smarter, yes of course. Not naman smarter, [but] more educated in that field.
"I don't want to like, 'Hello! Welcome to politics and I'm gonna help you out!' And I don't even know what's happening."