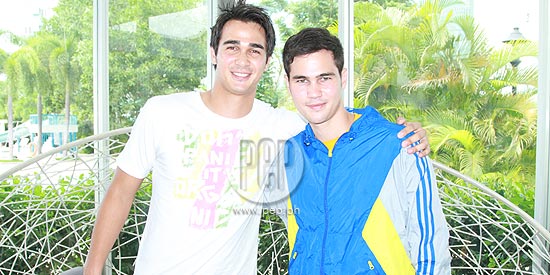 ---
Year two of PEPtalk continues and we are honored to have two of the hottest football stars of the Philippine Azkals, Phil and James Younghusband.
CHILDHOOD IN MALABON. In the first part of #YounghusbandsonPEPtalk the brothers recalled their early years in Malabon. They shared their fondest memories of their vacations here—playing with watusi, wading in the flood and enjoying the all-time favorite Filipino food, adobo.
James said, "We always come here for vacation. We love the Philippines and we want to stay here." Although Phil and James were born and raised in Surrey, England, they grew up practicing Filipino culture and values.
Phil added, "This is our home."
Phil also put emphasis on having the best of both worlds. He feels blessed to have a British dad and a Filipino mom.
James shared an important lesson from their mom: "Our mom, the most important [thing] she taught us is, family comes first."
The football heartthrobs also shared their favorite Filipino dishes. James loved pancit bihon, adobo, and kare-kare.
Phil talked about his experience in cooking pork sinigang, which he sent to Angel Locsin, back when she was taping for In The Name of Love.
MORE FUN IN THE PHILIPPINES. They really enjoy staying in the country. "There's something that just pulls you towards the Philippines," said Phil.
"There's so many things that make it more fun in the Philippines—the people, the culture, the attitude, the driving, the beaches, everything."
James added, "What [sets] the Philippines apart is the likes of the jeepneys and tricycles because when foreigners come here they want to ride and experience it.
ADVERTISEMENT - CONTINUE READING BELOW
"Like for us, we ride at the back, have the wind in our hair.
"But like Phil said, the biggest difference is the people. They are very welcoming here, like if you go to a restaurant the staff would greet you with a warm welcome and a smile, unlike the other countries that I've been through."
LOSING THEIR MOM. While Phil and James had a great time in the Philippines with their family, it was also here that they experienced one of the saddest events in their life, the passing of their mom Susan in 2011.
Phil is thankful for the love and trust their family and friends are giving them. "Without our friends and family we'd be lost, so we are really thankful that we have positive people around us. And people who are helping us because they love us."
James said, "Before mom and dad's passing away, they've been preparing us to live life, to look after each other. We've been fortunate to have good people around us."
It is truly difficult to lose one's parents, but Phil took it positively as part of life. "It's not that we lost two parents at the same time, we lost [them] one at a time, so we were in a journey of preparing ourselves."
James added, "We wouldn't be where we are today without them."
Having lost their parents, Phil and James are now the guardians of their 11-year-old sister, Keri. Who's stricter, James or Phil? Are they over-protective of Keri?
ADVERTISEMENT - CONTINUE READING BELOW
Learn more about Phil and James Younghusband: their childhood, relationship, football, and how they are as guardians and brother to their sister Keri. Watch #YounghusbandsonPEPtalk.