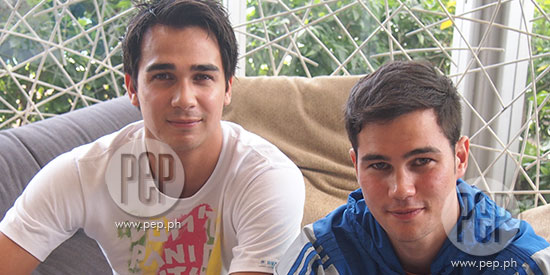 ---
Starting off the second episode of PEPtalk with Phil and James Younghusband was a question comparing their football careers back in England and here in the Philippines.
For James, the sport is still developing in the country; but he's glad about its progress.
He added, "We never actually had a break from playing. It's all year round because we're learning how to adapt to other countries' schedules."
Phil interjected, "Football has been around in England for years and years.
"The Philippines has so much potential— so many things could be achieved.
"And if there's an organized plan and there's a good organization, it can really do well and go far."
With sports like basketball and boxing getting the lion's share of fans, don't they get disheartened?
"Hmm, no," James answered. "Our goal is to get more people involved in sports in general, like heed a healthy lifestyle.
"We just want to show that there's another sport out there for kids who love the sport."
For Phil, he cited "getting sponsors or people to get interested in the sport" as the difficult part before the Azkals' success.
Slowly though, after winning several matches abroad, things began changing, "... parents are interested, kids are interested, and now, they know there's a future in the sport."
The younger Younghusband also stressed, "We're not competing against any other sport.
"If basketball is number 1, boxing is number 2, that's fine, so long as football can keep progressing and keep going and stays third, as long as we're alive, that's fine."
THE BEST AND WORST PART OF BEING AN AZKAL. This topic had the Younghusbands smiling and pondering for a moment.
James was the first to answer.
"I think the best part is being able to be a part of making history here in the Philippines. It's good to be part of an organization to bring up the interest here.
ADVERTISEMENT - CONTINUE READING BELOW
"Bad points, let's say, probably the scandals from before and having to deal with that," he said with laugh.
Turning serious, the team's right midfielder added, "During those times, it actually brought the Azkals closer together as a group and made us stronger."
Phil threw in, the best part of being an Azkal is "its bragging rights, its pride, and representing the country."
The striker added, "The worst part is probably finding the facilities… We're the national team but it's difficult to find good facilities."
JUST POSTER BOYS? Some detractors have labeled the Younghusbands as poster boys for the team. How are they taking this remark?
"I look at it as a challenge," James quickly answered. "It gives us something to prove that we're more than poster boys."
Phil continued, "The original attention came to team was because of the success, the result.
"It shows that even without good-looking players, the real reason we are here is because we played well and we worked hard."
But of course, being good-looking doesn't hurt. Most of the time, it has helped the team get fired up when girls cheer during matches. But sorry, ladies, Phil and James are already taken.
DON'T MISS: their opinions on marriage!