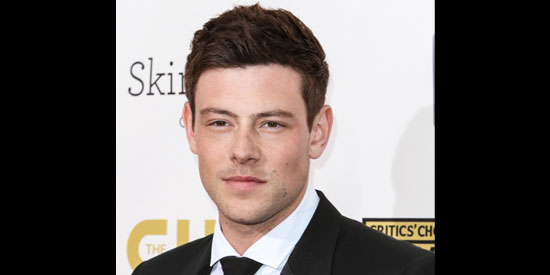 ---
There wasn't a "dry eye in the house" at Cory Monteith's memorial in Los Angeles on Thursday, July 25.
The Glee cast and crew, including Cory's 26-year-old girlfriend Lea Michele, paid tribute to the actor, who died of a heroin and alcohol overdose earlier this month, at a private service at Paramount studios where Glee is filmed and everyone was overcome with emotion.
A source told E! News: "It was incredibly emotional and moving.
"Don't think there was a dry eye. It was a really fitting tribute to an amazing guy. But it is all just so sad."
A statement from Fox on Thursday, said: "Today, Ryan Murphy and Lea Michele gathered the cast, crew and producers of Glee, along with colleagues from the network and studio, to share memories and music in an emotional celebration of the life of Cory Monteith. We thank the public for their continued outpouring of love and support as we grieve our friend and colleague during this difficult time."
Lea was "shellshocked" at Cory's memorial.
A source told HollywoodLife.com: "Everyone made time for Lea and talked to her and cried with her—she was shellshocked, but was very happy to be surrounded by her peers. It was exactly what she needed.
"Many of the cast were talking about their memories based on specifics places of the set. The memorial was basically a remember 'what happened here or there' type of situation."
While the cast and crew found the memorial emotional, the insider admitted it was also therapeutic for everyone to share their memories of the tragic star.
The insider added: "There were about 200 people there, and tears started flowing every time a story was told, but there were laughs and smiles as well when some stories were told. It was very therapeutic. It was exactly what you would expect when people get together to give respect to a person that was so important to them."
ADVERTISEMENT - CONTINUE READING BELOW
Chris Colfer—who portrays Kurt Hummel in the comedy drama show—took to his Instagram account to honour his friend, who was found dead in his hotel room in Vancouver, Canada, on July 13, and admits he's been remembering many of the happy times they shared on set in the wake of his shock passing.
In a message accompanying a blurry screen grab of the pair, he wrote: "I'll never forget all the laughs we shared or the faces we made after awkward interview questions. Love and miss you, buddy."
Chris posted his message shortly after a memorial was held for the 31-year-old actor at Paramount Studios in Los Angeles, which was attended by many of his co-stars including Lea Michele—Cory's girlfriend of 14 months—and the show's creator Ryan Murphy.
Jane Lynch—who portrays tough-talking Sue Sylvester in the program— also attended the emotional service and admitted it was nice for the cast to be together in such a difficult time.
She told TMZ: "It was beautiful. And still really sad, but it was beautiful. [It was] nice to all be together again."
Earlier this month, Naya Rivera—who plays Santana Lopez in Glee—said she was "deeply saddened" following the death of her co-star.
She said in a statement: "The entire Glee family and I are deeply saddened by this tragedy.
"Cory was and always will be a part of my own family and a good friend. He was a special part of this world and will forever be missed."
Cory, 31, struggled with substance abuse for years, first entering rehab at 19 before a stint following a relapse earlier this year.