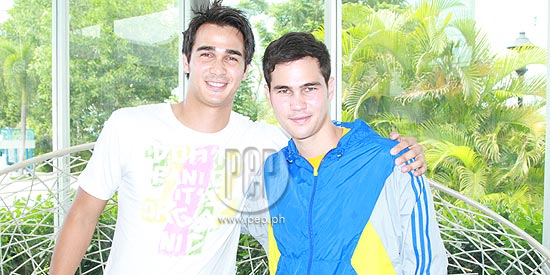 ---
In the last installment of #YounghusbandsonPEPtalk, Phil and James talked about their girlfriends; plus, they gamely participated in the bukingan portion.
Let's talk about the ladylove of James Younghusband first.
Her name is Sari Lazaro.
James related, "I met her from my teammates' girlfriend, Anton del Rosario's girlfriend and, that time, Aly Borromeo's girlfriend.
"We met each other at the challenge cup last year, and it's our one year anniversary next month."
Proudly, James talked about Sari's ventures, which includes designing bridal gowns.
Host Jocelyn Dimaculangan asked Phil: Is it possible for her to design a gown for Angel Locsin?
Phil quickly replied, "She might…"
This time, it's the younger brother's turn to talk about the love of his life.
"Two and a half years since we started dating, but officially together... and our first year anniversary was last May 27."
How did they celebrate?
Smiling, Phil said, "We had a game in Singapore and she actually surprised me."
For his part, he prepared a "video for all our memories together."
He added, "I like making her feel kilig."
MARRIAGE. Meanwhile, Phil said that marriage has been brought up a couple of times, but no specific plans yet. "We want to get married and we know we want a future."
In the case of James, it doesn't figure yet in his immediate plans.
"We just enjoy being with each other. We don't like to make plans too much into the future. We just like to live in the moment together."
BUKINGAN! Who's habulin ng babae? Who's more magaling sa football? Who has the temper?
Don't miss the famous brothers's answers in #YounghusbandsonPEPtalk.
BONUS: Lastly, who's the better singer? Watch them sing "Pusong Bato!"
Click here to watch the PEPtalk interview with Phil and James Younghusband!
ADVERTISEMENT - CONTINUE READING BELOW