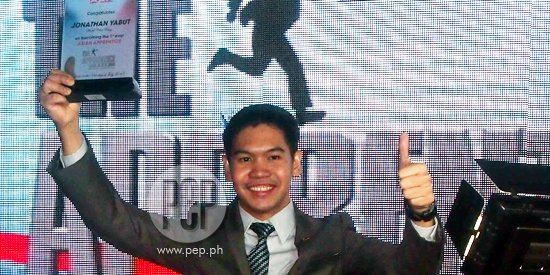 ---
University of the Philippines Economics graduate Jonathan Allen Yabut still could not believe that he won the first season of The Apprentice Asia.
Jonathan fought head-to-head with Singapore's Andrea Loh Ern-Yu on the 11thand final episode of the reality TV show to win the coveted position under Malaysian entrepreneur and The Apprentice Asia host Mr. Francis "Tony" Fernandes.
The first-ever winner of The Apprentice Asia is proud to have raised the Philippine flag on the marketing and business industry with his victory.
"This is for the Philippines. It's a win not about me.
"And finally, pagdating sa kumpetisyon na pagalingan sa utak, pagalingan sa business and marketing, the Filipino has finally spoken that we are the best in Asia," Jonathan told PEP.ph (Philippine Entertainment Portal) and other members of the press during the special screening of The Apprentice Asia at Hyve Superclub in Bonifacio Global City last night, July 31.
Admittedly, Jonathan said he was confident that he would win the competition before Mr. Fernandes announced the winner—until the Malaysian entrepreneur said that he is going to "change his mind" in choosing his apprentice.
"Coming into the board room, I thought Tony would be choosing me and then when he said, 'I am changing my mind,' I thought he really wanted to vote for Andrea.
"But in the end, he chose me."
BEST OF THE BEST. Jonathan bested 11 other contestants and survived 10 boardroom showdowns before being declared winner of the competition.
"Definitely, nahirapan," Jonathan confessed when asked if he was challenged with their tasks.
"The best in Asia is out there, countries from India, Singapore...
"All these countries are out there and, wow, the fact that the Philippines has stood out, I'm just so proud and happy that we are able to prove it."
Nevertheless, Jonathan gives credit to what his fellow contender, Andrea, achieved in the competition.
ADVERTISEMENT - CONTINUE READING BELOW
"Very happy for her. I know there are many opportunities for her as well and I wish her the best.
"It could have been her, it could have been her.
"And I would admit defeat to her, and there's no other person in the competition I would lose to but her."
Jonathan also recognized fellow Filipino contender Celina Le Neindre's contribution to his win, but admitted that he was lucky not to face her during their boardroom trials.
The 27-year-old product manager said, "You know, it's a blessing in disguise na she wasn't in my team [Mavericks] kasi, otherwise, we would have fought in the board room.
"But the good thing is that she has always been on the other side, so every time we ride an airplane, every time we go to somewhere else, we seat beside each other and then we say, 'O sinong kalaban ko diyan? Sabi ni ganito, ganito ka, totoo ba 'yan?'
"So, there's always been teamwork and synergy and secret connivance from the start.
"I think it was very, very Pinoy. We always root for each other."
When asked what was his strategy during the competition, Jonathan humbly said, "It's so cliché to say to be yourself, but if you feel that you are the best, it will always shine.
"Always bring out the best in people.
"You are not there to argue and you're not there to put people down. You're there to bring out the best in them.
"So as long as you show that to Mr. Tony, because he's that kind of guy, he will like you and he will bring you down to the final two."
THE APPRENTICE. Jonathan will be flying to Kuala Lumpur, Malaysia, on August 15 and take over the position of chief of staff of Mr. Fernandes as part of his $100,000-contract for winning The Apprentice Asia.
ADVERTISEMENT - CONTINUE READING BELOW
Jonathan said, "Very nervous, you have to prove to Mr. Tony why you are the real apprentice outside the board room.
"But in the end, when you're nervous, that's a good thing because that means you're being fueled at your best."
Aside from his six-digit U.S. dollar contract, Jonathan is more excited about the other "perks" of his new job.
"To me, the prize is not about the money.
"The prize is the kind of mentorship you will get from Mr. Tony Fernandez, the people you will meet, and all other opportunities that come with it.
"So, very proud, very happy.
"And, like I said, it's not about me. It's about the Philippines and [I'm] so happy about it."
Since he will be working abroad for a year, what will he miss most about the Philippines?
Jonathan replied, "The food.
"When I was in Apprentice Asia, I had problems with the food because it was spicy.
"And the idea na kahit saan ka pumunta sa Pilipinas, may ngingiti sa 'yo."
Before heading back to work, Jonathan will be taking a break and do what he loves most: travelling.
"I'm going to Boracay tomorrow. I'm going to Boracay and next week we're flying to Europe.
"I've already booked my ticket so I'm travelling muna for a while.
"I'm going to the beach, I'm going somewhere else, and I'm gonna unwind and detox first before I fly."
PINOY PRIDE. For the final episode of The Apprentice Asia, Jonathan was seen wearing a Barong Tagalog during their final task which pretty much display his nationalism.
He said, "I have always aspired for it, kaya naman dala ko yung Barong Tagalog ko because I told myself if I would be in the final two, I will be wearing it and I did."
ADVERTISEMENT - CONTINUE READING BELOW
Aside from his Barong Tagalog, Jonathan also wore a Philippine flag pin in every boardroom trial of the competition.
"Para na siyang naging anting-anting ko na.
"Every time I get scared, I touch it and it reminds me of the people back home.
"Reminds me how this is not for you, it's about about people who root for you back home."
For the next season of the reality show, Jonathan hopes another Filipino will raise the flag and win the competition.
"Definitely, and I'm rooting for the next winner. He has to be a Filipino—again."
He added, "Whoever is gonna be jumping in, may advantage agad dahil Pinoy ka.
"Ang Pinoy palaban, ang Pinoy madiskarte, and all these things will make you win the competition."
Jonathan also aspires to become the next Mr. Tony Fernandes and manage his own kitchen empire.
"When I get older, when I get more mature, I want to become the next Mr. Tony Fernandes so I will definitely build my own company."
SHARE THIS STORY The Apprentice Asia" data-url="https://www.pep.ph/news/39795/jonathan-allen-yabut-hired-in-the-apprentice-asia" data-desc="Jonathan Allen Yabut dedicates win on The Apprentice Asia to the Philippines." data-image="https://contents.pep.ph/images2/news/3065572ee.jpg"> The Apprentice Asia" data-url="https://www.pep.ph/news/39795/jonathan-allen-yabut-hired-in-the-apprentice-asia" data-desc="Jonathan Allen Yabut dedicates win on The Apprentice Asia to the Philippines." data-image="https://contents.pep.ph/images2/news/3065572ee.jpg"> The Apprentice Asia" data-url="https://www.pep.ph/news/39795/jonathan-allen-yabut-hired-in-the-apprentice-asia" data-desc="Jonathan Allen Yabut dedicates win on The Apprentice Asia to the Philippines." data-image="https://contents.pep.ph/images2/news/3065572ee.jpg">
SHARE THIS STORY
The Apprentice Asia" data-url="https://www.pep.ph/news/39795/jonathan-allen-yabut-hired-in-the-apprentice-asia" data-desc="Jonathan Allen Yabut dedicates win on The Apprentice Asia to the Philippines." data-image="https://contents.pep.ph/images2/news/3065572ee.jpg"> The Apprentice Asia" data-url="https://www.pep.ph/news/39795/jonathan-allen-yabut-hired-in-the-apprentice-asia" data-desc="Jonathan Allen Yabut dedicates win on The Apprentice Asia to the Philippines." data-image="https://contents.pep.ph/images2/news/3065572ee.jpg"> The Apprentice Asia" data-url="https://www.pep.ph/news/39795/jonathan-allen-yabut-hired-in-the-apprentice-asia" data-desc="Jonathan Allen Yabut dedicates win on The Apprentice Asia to the Philippines." data-image="https://contents.pep.ph/images2/news/3065572ee.jpg"> The Apprentice Asia" data-url="https://www.pep.ph/news/39795/jonathan-allen-yabut-hired-in-the-apprentice-asia" data-desc="Jonathan Allen Yabut dedicates win on The Apprentice Asia to the Philippines." data-image="https://contents.pep.ph/images2/news/3065572ee.jpg">