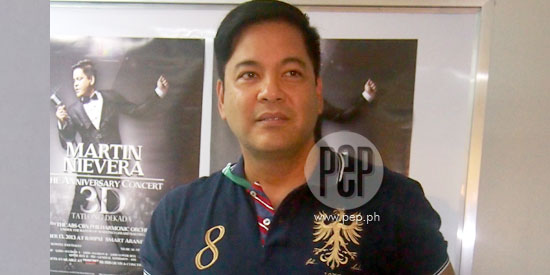 ---
Martin Nievera celebrates his 30 years in showbiz with an upcoming concert on September 13, Martin Nievera 3D, at the Araneta Coliseum.
In an interview last August 7 at the Viva Concerts office, PEP.ph (Philippine Entertainment Portal) asked Martin how it feels to be celebrating three decades as a singer.
He replied, "Feels great! At this day and age, I'm sure, you kids know this: this is the day and age of 'here today, gone tomorrow.'
"So to be three decades, even a decade is great, you know. I didn't know I would last this long.
"But thank God that there's a market and the parents of my fans are forcing me down their children's throats that I could last thirty years!"
CONCERT KING. For someone dubbed as the country's Concert King, what are the challenges of staging another concert?
"It's the most challenging, especially because, what you just said, if people do believe in titles, if I am to live up to… Concert King, you say, thirty years, talagang may pressure na ngayon.
ADVERTISEMENT - CONTINUE READING BELOW
"I'm just happy that Viva has allowed me to have a major concert of this size, solo. It's not uso now.
"I mean, now it's nice to have like Gary and I As 1, Sarah and I, Sharon and I, the Side A…it's all… Pops, Regine, and Ogie… my last show is four of us.
"Nowadays, it's value for money. So for Viva and Redstone Production to come together and say, 'Okay, we're gonna give you a solo,' whoa, that is huge!
"That is the biggest compliment that any singer at thirty years in the business called the Concert King could ever receive... even just the offer.
"So now I have to make Viva and Redstone believe that they made the right decision.
"I have to make everybody who comes to watch the show remember what I used to do, why they called me the Concert King.
ADVERTISEMENT - CONTINUE READING BELOW
"And that in itself is sleepless nights, pressure, tension…"
While most concerts today would bank on having several guests, Martin stunned his producers when he said he wanted "nobody."
But he is thankful to them for respecting his decision. "They said, 'Whatever you want.'
"So I asked for an orchestra, it's the ABS-CBN Orchestra.
"We're gonna be doing whole songs as opposed to half of songs or medleys of songs, which I was doing to be able to give way to my co-stars.
"We cannot do all our songs; we'll be there five days, di ba?
"So putting all of that together is talagang sobrang pressure, because I have a lot to prove."
After three decades as a singer, songwriter, TV host , nd what-have-you, is there anything else he wants to accomplish in his career?
Martin said, "More than anything, I want to see my children realize my dreams.
ADVERTISEMENT - CONTINUE READING BELOW
"Since Robin, my eldest boy, seems to be want to follow the same path his mother [Pops Fernandez] and I had chosen, I wanna see him reach… in this table, also.
"I wanna see him being asked questions like you're asking me now. His years of success and blessings—I wanna see that.
"I wanna be alive long enough to see that, if I could be part of it, even better.
"Also, I also want to be like… you all know Tony Bennett, right? I mean, you see how that guy has aged. I mean, Frank Sinatra… I want that to happen to me too.
"I want to be able to be considered for projects because of the years of perspiration that I have invested in this business, in a business that's been very, very good to me."
It is clear that Martin imagines himself growing old in the business.
ADVERTISEMENT - CONTINUE READING BELOW
"Actually, I see myself singing, maybe not with this kind of schedule that I've had, which is… I used to have a concert every other four months, but it's lessened now.
"And I see myself growing old, really, I still believe in this… I see myself growing old in television.
"I see myself in a late-night talk show, sana Channel 2, but whatever channel will have me… they'll have me grow old with them.
"I wanted it to be ABS-CBN, but they have other plans for the timeslot that I was on. I don't know if they'll get me back to do my late-night show.
"I don't know if there's a market for it. But I truly believe… like the Lettermans and Jay Lenos…
"See how they started and even [when] they're all getting white hair and medyo not so in shape anymore, they still can do their talk show.
ADVERTISEMENT - CONTINUE READING BELOW
"There's still a niche that they can have. And I want that because then I can still somehow be involved in helping other people with their careers.
"I'm a huge fan of Ellen [DeGeneres], and the thing I like most about her is that, she's so generous. She is so generous as a host, it's all about you.
"I wanna be that kind of host who can grow old with the station, the one who says goodnight to the country he's from.
"'Goodnight, Philippines!' I was doing that for so many years. I wanna do that for the rest of my life."
And if other stations give him that offer?
"They've been offering me that.
"But I'm so in love with ABS-CBN and I don't know if the feeling is mutual—I hope it is.
"But contracts keep you from moving also. But back in the day, before I had a contract, I just had a handshake.
ADVERTISEMENT - CONTINUE READING BELOW
"I'm the longest artist in ABS-CBN so it would be a really bad move for me to move, regardless of how tempting the offer is.
"I can see myself having a nicer house, more beautiful car… all these kids in ABS, they have nicer car than me. And it's like depressing.
"But anyway, I won't be able to sleep well at night knowing that I hurt so many people just to get that new car or get that new house.
"Of all the artists you'll see in ABS-CBN, my home, my car, my life, is the most humble, compared to them because I'm not searching for more income.
"I mean, we all need to search for better income. But I'm so in love with everybody in that station that whatever they give, I grab it, and I hopefully, turn it into something bigger than what it was when it started.
ADVERTISEMENT - CONTINUE READING BELOW
"Like a teleserye theme song as opposed to a teleserye or a guesting on a TV show or X-Factor for three months, rather than having my own show.
"I'm on ASAP, right? I've been there for 18 years. I was there since day one of ASAP. Can you see me on another noontime show on another station?
"There's been offers for that, too. I just can't see it.
"For someone who's no longer married because he was unfaithful, I am the most faithful guy that you'll ever meet on ABS-CBN. Weird, right?"
Martin clarified that both GMA-7 and TV5 had given him offers.
"Yes, 7 and 5, yeah.
"And nice of them to keep asking me even though… look at the way I talk about ABS. Who's gonna want you when you talk like that, di ba?"
COLLABORATION WITH ANNE CURTIS. A video of Anne Curtis and Martin singing a mash-up of Chris Brown's "Without You" and U2's "With or Without You" recently came out.
ADVERTISEMENT - CONTINUE READING BELOW
The veteran singer explained why he agreed to do the collaboration orchestrated by Marvin Querido.
"It's fun! These are the things we old dinosaurs have to do.
"We cannot sit on our throne and say 'I don't need this.' I need it! Definitely.
"This is what I mean by old dogs, new tricks. This is what everyone's talking about, the Internet.
"So I have to do more of that. I have to be more savvy, more today-savvy.
"In short, I have to get with the program."