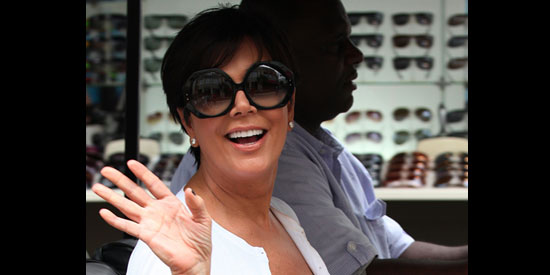 ---
Kris Jenner thinks Kim Kardashian is a great role model.
The Keeping Up with the Kardashians star praised her daughter, 32, for inspiring people to dream big after U.S. President Barack Obama criticized the reality star and her boyfriend, Kanye West, for parading their opulent lifestyles and warping "the American Dream" by sparking a cultural change.
During a recent Kindle Singles interview, Obama reminisced about his own youth, saying: "There was not that window into the lifestyles of the rich and famous. Kids weren't monitoring every day what Kim Kardashian was wearing, or where Kanye West was going on vacation, and thinking that somehow that was the mark of success."
But Kim's mother hit back at his comments on her talk show Kris on Friday (August 9) and accused President Obama of unfairly picking on the couple.
She said: "I wasn't aware that you could only set the bar so high and that we could only dream so big.
"I bet the President has some friends with 10,000 square foot houses and he probably wouldn't mind going over there when asking them to have a party for campaigning for dollars to run for president.
"I find it so odd that he's picking on Kim Kardashian and Kanye West. Well, Kanye West, first of all, doesn't go on vacation. Ever.
"And Kim Kardashian is the hardest-working young lady in the world. She never sleeps, she never stops, she never slows down and works so hard for what she's got."