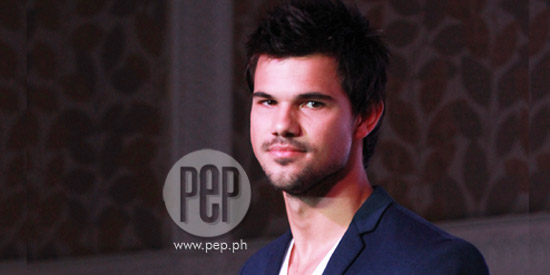 ---
Taylor Lautner does not mind being called "Jacob" even if the Twilight Saga franchise has already ended.
Taylor, who played the role of Jacob Black in the highly-successul movie franchise, is currently in Manila as part of his promotional tour for local clothing brand Bench.
"I love Jacob. That franchise means so much to me.
"I really made those movies for the fans. So, it's great, I'd love it if they call me Jacob," said the 21-year-old Hollywood star during the press conference prepared for him by Bench earlier today, August 16.
Taylor said he fell in love with his character in Twilight, the movie adaptation of the vampire-themed fantasy romance novel of Stephenie Meyer.
He said, "I love Jacob as a person. I think he's great guy.
"He gives so much to the series.
"I mean, all of his character, his constant loyalty, everything about him just makes you fall in love with him.
ADVERTISEMENT - CONTINUE READING BELOW
"I love Jacob and I brought that life to me personally.
"I love making those movies, I made so many friendships into my life in making those movies.
"I mean, the memories from Jacob and that movie franchise will be there forever."
Taylor said credit to the success of their movie should be given to the novel's author.
"It's something about those books. That is what the fans fall in love with.
"They fell in love with the books and they fell in love with the characters—that's definitely what Meyer created.
"All we really did was we brought words from those pages down to the screen.
"I mean, Stephanie Meyer is a genius, and it's quite an amazing book to create."
He also described the experience as something "crazy."
After Twilight, Taylor said, "So much has been happening. It's hard to believe sometimes. I couldn't be more thankful."
ADVERTISEMENT - CONTINUE READING BELOW
TRACERS. During the interview, Taylor mentioned that he likes to do different things. This is why he's so excited about his upcoming movie Tracers.
Taylor considers this action movie as an opportunity to do challenging stunts.
"If we're talking about stunts, there's a few that I did that were pretty dangerous.
"I don't know, those are probably the most exciting stunts I did.
"There was a few in the Twilight franchise that I've done.
"I did some cool things, you know, just for fun but some crazy stuff in Tracers."
The stunts, according to Taylor, were mostly based on physical discipline training called parkour.
He said, "[Tracers] is set in the world of parkour which is a very, very cool world.
"Parkour is an amazing thing.
"If you ask a parkour artist, they deal with that as an art form.
"And it's much more complicated than that. There's running and jumping off the wall of the building.
ADVERTISEMENT - CONTINUE READING BELOW
"It's an art form for them so it requires a lot of training to make sure… Pretty much I had to do everything.
"We wanted the movie to feel as real and as authentic as possible so I wanted to give it my everything.
"I had to make sure what I was doing."
After Tracers, Taylor hopes to do another challenging role for his next project.
"I'm looking forward to working on something different.
"I believe you'll never stop learning so I love challenging myself by doing different things.
"Tracers was something completely different for me after the Twilight franchise.
"And next, I look forward to do something new as well," he ended.
Taylor will be staying in Manila until this weekend.
He will be meeting his Filipino fans in a fun meet set up by Bench tomorrow, August 17, 6 p.m., at SM Mall of Asia Arena .
ADVERTISEMENT - CONTINUE READING BELOW
On Sunday, August 18, 3 p.m., Taylor will have a mall tour at the Activity Center in Glorietta and at SM Mall of Asia at 5 p.m.