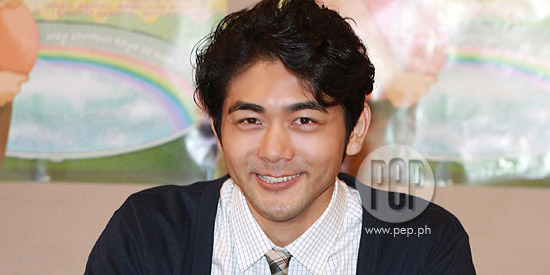 ---
One of the things that convinced Hollwood actor Yuki Matsuzaki to play the role of Kaoru in Instant Mommy was Eugene Domingo's performance in Ang Babae Sa Septic Tank.
Yuki revealed this during the press conference of Instant Mommy yesterday, August 22, at Cocoon Boutique Hotel in Quezon City.
"After I submitted [my application for] the role, I bought a DVD of Babae Sa Septic Tank.
"I saw it seven times because it was such a good performance, Uge's performance," he said.
In a separate interview with PEP.ph (Philippine Entertainment Portal), Yuki said, "I was blown away by her performance, how good she was, and how funny she was.
"I really wanted to do this film."
As a co-actor, Yuki said Eugene has give more than what he expected.
"The experience I had with Ms. Uge reminds me of some of the experiences I had in Letters From Iwo Jima.
"There, I collaborated with other actors more about improvisational scenes and each of us played realistic characters and just go along with whatever's going on in the scene.
"Ms. Uge, because she's realistic and believable, I didn't have to act.
"I could just become a character and it just happened organically."
Letters From Iwo Jima is a 2006 Hollywood film directed by Clint Eastwood.
The Hollywood-based Japanese actor was also impressed by his other co-stars in Instant Mommy because of their professionalism.
Yuki said, "Everything was almost as professional as Hollywood indie film.
"The working environment was totally professional.
ADVERTISEMENT - CONTINUE READING BELOW
"They respect me as an actor. I have no complaints."
He was equally happy that he could communicate to everyone very easily.
"I was expecting, from where I am, having difficulty in communicating to everyone else.
"But it was actually almost as easy as an American indie film.
"Everyone was talking to me in English and they taught me Tagalog."
Yuki added, "Only Eugene is teaching me some bad words.
"Everyone is so friendly and working with them is extremely comfortable."
Although everything went fine while filming Instant Mommy, Yuki revealed that he had to make one special request.
When they shot his intimate scene with Eugene, Yuki said his manager reminded him to avoid having their photos uploaded on the Internet.
"My manager was frantic, you know, because in the Filipino environment, people take pictures in their cell phones and upload it on their Instagram.
"He told me, 'Yuki, I don't wanna see your picture with Uge lying on a bed shot by someone's cell phone and uploaded on Instagram.'
"So, they have to make an announcement on the set, 'Everyone no cell phones today because of Yuki's manager.'"
Other than that, according to Yuki, they did the scene easily.
"Everything was very natural for my character. It was very intimate, truly intimate," he said.
FIRST ASIAN FILM. Yuki has been working in Hollywood for 13 years. Among the movies he did were The Last Samurai (2003), Letters From Iwo Jima (2006), The Pink Panther 2 (2009), and Pirates of the Carribean: On Stranger Tides (2011).
ADVERTISEMENT - CONTINUE READING BELOW
Although he has been exposed to mainstream Hollywood movies, Yuki did not have to think twice about applying for the role of Kaoru in Instant Mommy.
He said, "What really attracted me into this project is that it's a Filipino film and because I've been in Hollywood for 13 years, most of my works were either in Hollywood or Europe.
"So, I really wanna play a role in an Asian film and this came so I applied for it."
Yuki also related that he had to convince his manager to be able to do Instant Mommy.
"I wrote to Chris Martinez saying I want to play the role and I will convince my manager.
"Of course, the budget is different from Hollywood films.
"My manager wasn't that supportive at first because about 10 days of trabaho dito sa Pilipinas equals to one day of work in Hollywood.
"But I convinced my manager that I want my role.
"When they offered me finally, I just said to my manager, 'I'm gonna play the role. Don't say anything. Don't even try to negotiate with them, I want to do this.'"
Yuki got interested in the movie because "I thought this film would be a great opportunity for me to let Filipinos see what's going on inside a Japanese's mind.
"In that way, we can understand each other.
"In that way, we can eliminate some of the prejudices that we have against each of us, each of our country."
ADVERTISEMENT - CONTINUE READING BELOW
When PEP asked if he would be willing to do another Filipino film, Yuki smiled and said, "Definitely yes, but my priority is whether the film will be able to help bonding the Asian countries."
Yuki will be in the Philippines until next week to help promote the commercial run of Instant Mommy, which will begin on August 28.