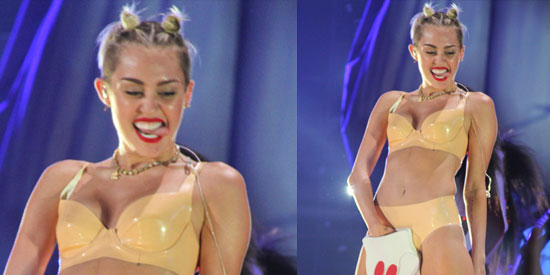 ---
Kelly Osbourne wished Miley Cyrus had "put her tongue in her mouth" during her performance at the MTV Video Music Awards.
The 28-year-old star has given her close friend some words of advice following her racy appearance with Robin Thicke which featured her "twerking" and grinding against Robin during their rendition of his hit "Blurred Lines."
Miley, 20, also repeatedly licked her lips as she danced in a two-piece, flesh-colored latex bikini and rubbed herself suggestively with a foam finger.
During a special episode of Fashion Police which aired on Monday night (August 26), Kelly's co-stars, including Joan Rivers, criticized Miley's risque appearance—which left many famous faces in the audience at the VMAs, such as Taylor Swift, Will Smith, and One Direction star Niall Horan, stunned.
Kelly insisted she loved her pal before offering her words of wisdom, saying: "I look at the performance and yes, I do have a lot of the same opinions as you guys about it... Look Miley's my friend and I love her, and I have her back no matter what, but as her friend I'm going to tell her—put your f***ing tongue in your mouth! I love you, but just put your tongue in your mouth."
ADVERTISEMENT - CONTINUE READING BELOW
But Kelly did like the vintage, black and jewel Dolce & Gabbana separates that Miley, 20, wore on the red carpet and the bikini she gyrated in on stage.
Kelly said: "We're not talking about her performance, we're talking about what she's wearing ... It's not that original [the bikini] but I do appreciate its reminiscent of the 'Blurred Lines' music video."
CYNDI LAUPER. Cyndi Lauper, on the other hand, feels "sad" for Miley following her controversial performance.
The legendary Grammy Award-winning singer has expressed concern for the We Can't Stop star after her salacious on-stage antics, likening the routine to a Girls Gone Wild softcore porn video and branding it "raunch" not art.
Speaking on Australian radio show Brig & Lehmo, she said: "That was girl gone wild. So sad, so sad. There she is a young 20-something trying to prove she can hang with the big boys and girls, you know... basically simulating a Girls Gone Wild video on stage and I just felt like that was so beneath her and raunchy, really raunchy. It wasn't even art."
ADVERTISEMENT - CONTINUE READING BELOW
The "Time After Time" hitmaker also aired her disapproval for the lyrical content of Robin's song, which she believes glorifies "date rape."
She added: "She's in a song that literally says that the blurred lines allowed you to... when a woman says no, she means yes, and that's frightful because that's date rape."
Cyndi, 60, further pointed out that fellow performer Lady Gaga—who appeared in a revealing seashell thong bikini—exhibited tasteful artistry in her show-opening performance, but implied that Miley, 20, was simply seeking attention with her raunchy flesh-coloured latex bikini and "twerking."
KELLY CLARKSON. Earlier today, American Idol winner Kelly Clarkson has blasted performers at the MTV Video Music Awards.
The "Catch My Breath" hitmaker was left less then impressed with "a couple" of the stars at the annual ceremony but refused to specify who had drawn her wrath.
She wrote on her Twitter account: "Just saw a couple performances from the VMA's last night. 2 words.... #pitchystrippers."
ADVERTISEMENT - CONTINUE READING BELOW
When a fan said while she approved of the comment, it still "wasn't very nice," Kelly responded by insisting she was actually holding back.
She joked: "@sheybug74 haha that WAS me being nice!"
In answet to this, Miley's friend has blasted Kelly for branding her a "pitchy stripper."
Cheyne Thomas branded the former American Idol winner "fat" and "bitter" on Twitter after Kelly made her comments.
He wrote: "Kelly Clarkson called Miley a pitchy stripper. Do you think she's mad because her past few singles flopped and wasn't asked to perform? and she's fat and 30 ... the reasons Kelly Clarkson is bitter could really go on for day"
MILEY'S RESPONSE. Meanwhile, Miley took to the social networking site herself to deal with the backlash head on.
She wrote: "Smilers! My VMA performance had 306.000 tweets per minute. That's more than the blackout or Superbowl! #fact."
ADVERTISEMENT - CONTINUE READING BELOW
As well as causing a storm on social media, Miley's overtly sexual display has also earned MTV a complaint from the Parents Television Council—a non-profit organization that campaigns against explicit programming and counts the former Hannah Montana star's dad Billy Ray Cyrus as a member of its advisory board for giving the awards show a TV-14 rating.
Dan Isett, a PTC spokesman, said: "This much is absolutely clear: MTV marketed adults-only material to children while falsely manipulating the content rating to make parents think the content was safe for their children. MTV continues to sexually exploit young women by promoting acts that incorporate 'twerking' in a nude-coloured bikini. How is this image of former child star Miley Cyrus appropriate for 14-year-olds?"