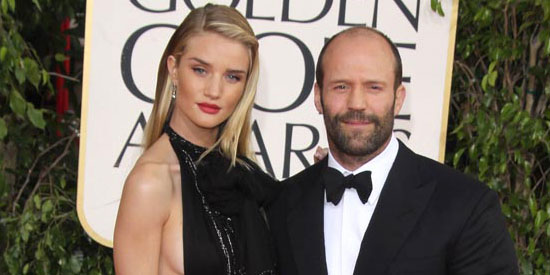 ---
Rosie Huntington-Whiteley has brushed off speculation she has split from Jason Statham, insisting they've "never been happier."
The 26-year-old model and the Parker actor reportedly agreed to a trial separation after getting into "lots of arguments" of late, but the blonde beauty's publicist is adamant the pair haven't called time on their five-year romance and were together as recently as last weekend.
The catwalk beauty's spokesperson said: "Rosie and Jason have not split and are not on a break. In fact, Rosie just got back from spending the weekend with Jason on the set of his new movie. They have never been happier."
The Victoria's Secret Angel and Jason, 45, were rumored to have taken a "time out" from their relationship earlier this week after several rows.
A source said: "There is no other person involved. They love each other very much and are not making an announcement because they're still hoping to working things out.
ADVERTISEMENT - CONTINUE READING BELOW
"But things have not been good, there have been lots of arguments and they both need some space. They are taking some time out from each other. Bear in mind there's an almost 20 year age gap between them—they are going to run into some issues."
Rosie recently revealed that she leans on her actor beau for "stability" due to her work in the difficult fashion industry.
She explained: "Many models are in long-term relationships for stability. Admittedly, not always with great men, but it gives them something to come home to, something grounding. That's how I see my relationship."