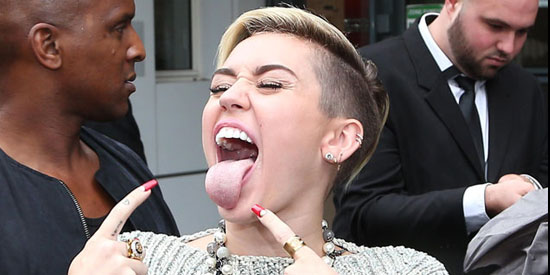 ---
Miley Cyrus joked about reports she is pregnant with Juicy J's baby.
The 20-year-old singer—who split from fiancé Liam Hemsworth recently—has been linked to both producer Mike WiLL Made It and rapper Juicy J in the past few months.
Miley took to Twitter to laugh about speculations that she is expecting Juicy J's baby.
Miley wrote: "waking up to the news that I'm now pregnant with @therealjuicyj baby."
She then added a conversation that she says she had with her assistant and best friend Cheyne Thomas, where she joked about calling the phantom baby "Juicy J Jr."
Miley quipped: "Me: 'did you know I'm pregnant with @therealjuicyj baby this morning' @CheyneThomas : 'what are you gonna name it?' Me: 'Juicy J Jr. DUH."
Meanwhile, Liam, who was photographed kissing Mexican actress Eiza Gonzalez just one day after he and Miley announced their breakup, is trying to ignore all controversies surrounding his ex.
Liam, 23, is said to believe that his ex-fiancee is desperately trying to get his attention by being controversial, and is determined to ignore her by throwing himself into filming the third The Hunger Games movie, Mockingjay - Part 1, in Atlanta, Georgia.
A source said: "Miley is doing all this stuff to get Liam's attention, but it isn't getting to him. Liam's totally zoned into work right now.
"He's not paying attention to Miley and all their drama anymore.
"He doesn't see the point because they're done, his focus is on work and his future, and he's very busy with this movie.
ADVERTISEMENT - CONTINUE READING BELOW
"It's a demanding role, and he's not going to let any drama get him off track."