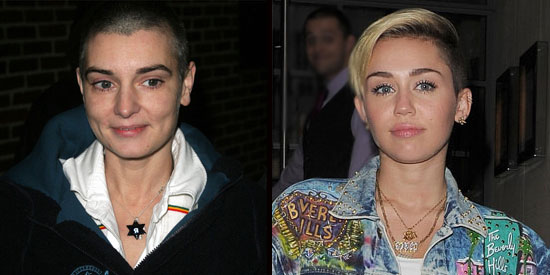 ---
Miley Cyrus has compared Sinead O'Connor to Amanda Bynes.
The starlet Miley hasn't responded well to the open letter that Irish hitmaker Sinead penned, in which she warned Miley that her provocative behavior and scantily-clad performances would leave her "prostituted" by the music business.
The former Hannah Montana star has taken to Twitter to slam Sinead, poking fun at her mental health and likening her to troubled actress Amanda, who has spent the summer in a psychiatric hospital.
Miley wrote, "Before Amanda Bynes.... There was..." attaching a screenshot of a tweet, from an account she believed was Sinead's, clamoring for psychiatric help.
While the account was a fake, Sinead did post suicidal tweets in 2011 and has struggled with mental illness in the past.
Miley also shared a photo of Sinead's 1992 controversial Saturday Night Live appearance, when she ripped up a picture of the Pope.
The 46-year-old singer's posting on her official website came in response to Miley's claims that she based the video for ballad "Wrecking Ball"—in which she is seen licking a sledgehammer and writhing around naked—on Sinead's own 1990 stripped-back hit "Nothing Compares 2 U."
Sinead pleaded with Miley to stop sending a "dangerous" message to her female fans, and insisted that Miley doesn't need shocking theatrics to be successful because she has too much "talent."
Miley has been on a mission to shed her child-star image of late, causing outrage by twerking in a latex bikini while rubbing herself with a foam finger, at the MTV Video Music Awards in August.
SINEAD RESPONDS. Sinead has now taken to her website to address Cyrus again—and she's not playing nice this time around.
Here is Sinead's full letter:
Miley… Really? Who the f—k is advising you? Because taking me on is even more f—kin' stupid than behaving like a prostitute and calling it feminism. You have posted today tweets of mine which are two years old, which were posted by me when I was unwell and seeking help so as to make them look like they are recent. In doing so you mock myself and Amanda Bynes for having suffered with mental health issues and for having sought help.
ADVERTISEMENT - CONTINUE READING BELOW
I mean really really… who advises you? have you any idea how stupid and dangerous it is to mock people for suffering illness? You will yourself one day suffer such illness, that is without doubt. The course you have set yourself upon can only end in that, trust me.
I am staggered that any 20 yr old woman of the 21st century could behave in such a dangerous and irresponsible manner as to not only send the signal to young women that its ok to act like prostitutes but also to the signal that those who have suffered or do suffer mental health problems are to be mocked and have their opinions invalidated. Have you no sense of danger at all? or responsibility? Remove your tweets immediately or you will hear from my lawyers. I am certain you will be hearing from all manner of mental health advocacy groups also. It is not acceptable to mock any person for having suffered.
It is most unbecoming of you to respond in such a fashion to someone who expressed care for you. And worse that you are such an anti-female tool of the anti-female music industry. I hope that you will apologise to Amanda Bynes and to any person who has been wounded by your mockery of those who have suffered. And I hope that you will wake up and understand that you in fact are a danger to women.
Furthermore you posted a photo of me tearing the pope's photo .. as if to imply insanity.. by doing so all you have achieved is to expose your staggering ignorance. I suggest you read The Philadelphia Report, The Boston Report, all the reports which will illuminate for you why that action of mine remains sane and valid. By mocking it you mock every child who suffered sexual abuse at the hands of priests and had it covered by the Vatican. You could really do with educating yourself, that is if you're not too busy getting your t–s out to read.
ADVERTISEMENT - CONTINUE READING BELOW
MILEY HAS NO TIME. However, Miley appeared to be unfazed by the threat and has offered to meet Sinead to work through their differences.
She hit back: "Sinead. I don't have time to write you an open letter cause Im hosting & performing on SNL this week.
"So if youd like to meet up and talk lemme know in your next letter. :)"