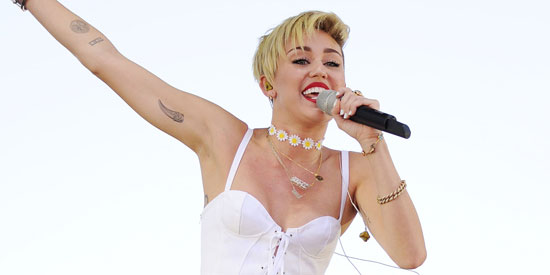 ---
Controversial star Miley Cyrus stripped down for her new "Wrecking Ball" video—in which she appears completely nude—and she insisted she has no problem baring all to portray the "emotion" of the song.
She told the Mail on Sunday newspaper's Event magazine: "I'm very confident being naked... I feel that stripping off is a way of expressing purity of emotion."
The "'We Can't Stop" singer was criticized for her raunchy bikini-clad performance at the MTV Video Music Awards, during which she was suggestively grinding against "Blurred Lines" hitmaker Robin Thicke.
Miley hit back at critics for searching too hard for a reason behind her behavior.
She insisted: "People try to make everything so thought out when sometimes there's no real reason why.
"My fans love the fact that everything I'm doing is my choice.
"It's my body. I want what I do to be memorable and so do my fans—I'm just living, just being."
And with everyone left wondering what Miley will do next, the former Hannah Montana star explained that's exactly what she wants to people to do.
She added: "I want to be memorable. That's what my fans want to. Everyone's talking about me, waiting to see what I'm doing next... I want to keep people guessing."
POKING FUN AT HANNAH MONTANA. Speaking of Hannah Montana, Miley poked fun at her old show while hosting Saturday Night Live.
The 20-year-old hitmaker bluntly confirmed she has put her former Disney alter ego well and truly behind her, as she explained why she wouldn't be reprising the role that kickstarted her career for a sketch.
ADVERTISEMENT - CONTINUE READING BELOW
During her opening monologue on Saturday night (October 5), Miley said: "There's a few subjects we're not going to get into tonight.
"I'm not going to do Hannah Montana, but I can give you an update on what she's been up to—she's been murdered."
Miley also refused to twerk, saying: "There will be no twerking tonight. I used to think twerking was cool, but now that white people do it it's lame."
Miley joked about her controversial MTV VMA performance and claimed she got phone calls from both "angry mothers" and "turned on fathers."
She added: "I don't apologize for my VMA performance. If I owe anybody an apology, it's the people who make the bottom half of shirts."
The young starlet, who almost bared all in a risky photo shoot last week, recently insisted she had no regrets about her new image.
She said: "I was born to become who I am right now... I'm at a point in my career where I can be exactly what I want to be, who I want to be.
"I have this freedom to do whatever I want, because I'm starting as a new artist now.
"Every time I do anything, I want to remember, this is what separates me from everybody else."