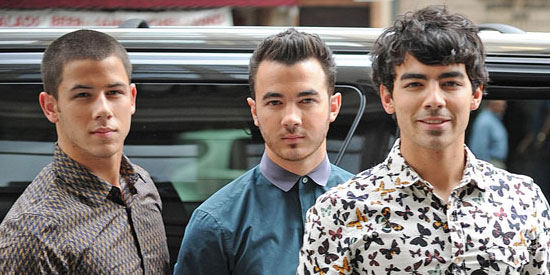 ---
The Jonas Brothers have hinted that they are working through their issues.
The "Pom Poms" hitmakers—made up of siblings Kevin, 25, Joe, 24, and Nick, 21—fuelled speculation they had split last week after cancelling their US tour and deleting their Twitter account because of a "deep rift within the band."
But Nick and Joe have given their fans new hope that they will continue to make music together.
Joe made no attempt to gloss over their recent problems as he tweeted from his personal account on Tuesday (October 22): "Please hold while we get our s**t together."
Minutes later, Nick simply tweeted: "Bear with us"
The "SOS" singers' American tour was due to start in Philadelphia on October 11, but they cancelled the gigs following a major argument about the "direction" their music was going.
Jesse Derris, spokesperson for the boy band, which was formed in 2005, said: "There is a deep rift within the band. There was a big a disagreement over their music direction."
An insider added: "It's not a personal fight, it's about the music. They are brothers, they love each other. Yes, they are still speaking."