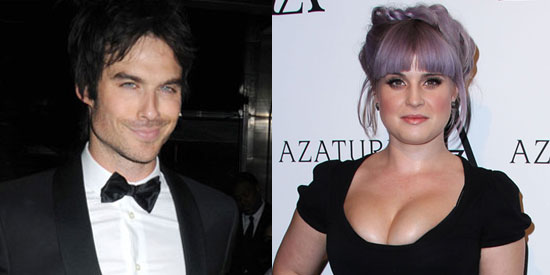 ---
Kelly Osbourne and Ian Somerhalder have expressed their dismay following a shooting at LAX airport in Los Angeles today, November 1 (U.S. time).
One person was reportedly killed and several more were injured after a gunman entered Terminal 3 of the Los Angeles International Airport—which is frequented daily by celebrities travelling in and out of Hollywood—with an assault rifle, and several stars have shared their thoughts on the tragedy.
Fashion Police co-host Kelly, 29, wrote on Twitter: "WTF!!! I really hope everyone at LAX is ok and the #LAPD get that shooter fast!"
The Vampire Diaries hunk Ian, 34, added: "CAN WE STOP SHOOTING EACH OTHER!!!!!!!?????DAMMIT! 3 DAYS AGO SHOOTING IN MY NEIGHBORHOOD NOW LAX?WTF???!!!"
The shocking incident took place at around 9.20 a.m. local time, and has resulted in all flights out of the airport being grounded, leaving passengers frustrated.
The X Factor USA host Mario Lopez tweeted: "My brother in law is flying out of LAX today. I should say WAS flying out before this idiot... I almost had to travel myself. Got lucky"
Other stars who expressed their support for the victims include Pretty Little Liars actress Lucy Hale and Billy Ray Cyrus.
Miley Cyrus's father wrote: "Thoughts and prayers for all the victims and those affected by the shooting at LAX today."
Other stars were actually on the scene when the shooting happened.
The Bachelor host Chris Harrison tweeted from nearly the beginning of the action: "Somethin crazy goin on at LAX right now. Terminals shut down & cops w guns drawn!" and then TSA just shut the doors in lockdown. Shooting over at Terminal 3 … Police very polite but guns drawn & very serious about clearing the streets on the top level of LAX. Everybody very calm & respectful… Incredible response by LAPD & airport authority. This place was locked tight w precision quickly. God bless first responders!."
ADVERTISEMENT - CONTINUE READING BELOW
James Franco was sitting on a plane at the airport when the shooting took place, and posted on Instagram: "At #lax Some s–tbag shot up the place."