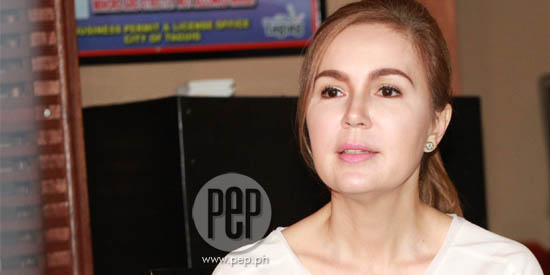 ---
Cristina Gonzales-Romualdez knows that there are people who criticize her presence in Metro Manila while Tacloban City, where she is a councilor and her husband is the mayor, remains in chaos.
In the second wave of press conferences she has called for, this time only yesterday, November 12, Cristina sits down with select members of the entertainment media, including PEP.ph (Philippine Entertainment Portal), to give her reasons for these interviews.
The city councilor begins, "I'm just here to explain.
"I heard, I didn't know when I was there, narinig ko na grabe pala ang kuwento...
"Imagine mo, walang media, ni hindi...walang radyo, walang kahit anong news organization, pero umikot yung kuwento na wala na kami."
Cristina is referring to rumors that circulated on November 10 through text messaging. One such feed, received by PEP, went:
"Wala na si Kring-Kring. Nasa evacuation area siya, na-washout yung area, kasama siya."
Kring-Kring was Cristina's screen name in the late '80s to the late '90s, when she was starring in sexy movies. She left showbiz after marrying Alfred Romualdez, a member of the Marcos political dynasty, whose titular head is the late President Ferdinand Marcos.
Alfred's Facebook page describes the mayor as a "workaholic chief executive" who gives "24/7 service" to his constituents. It also mentions Cristina as the chair of the city committee council on finance and appropriation.
At the time the text messages were circulating, Cristina says, she was busy surveying the disaster's aftermath and was clueless about the reports of her death.
ADVERTISEMENT - CONTINUE READING BELOW
She adds, "I was telling nga to the media yesterday [November 11], kasi they were saying si Mayor, nawawala.
"Siyempre, alangan namang magpapa-camera ka pa dun."
The former actress turned politician says it didn't help that there was a "media shutdown," which means "no radio, no TV, no cellphone."
Cristina also alludes to a more sinister "parang news blackout."
She says, "Hindi nila kami kinukunan sa Channel 2. Sa GMA, kinukunan pa kami ngayon. Pero yung Channel 2, usually, hindi naman. I guess, you know…"
Some of the reporters present quip: "May network war?"
Cristina does not elaborate, but leaves almost everyone in the room thinking that the "news blackout" and hoax reports about her and her husband may be politically motivated.
What she is tapping into is the fact that her husband, Mayor Alfred Sison Romualdez, is not perceived to be supportive of the administration party despite his claims that he is, and the loose talk among opposition figures that Channel 2, or ABS-CBN, is pro-administration.
Cristina is also very likely tapping into the fact that Ted Failon, an anchor for ABS-CBN's news program TV Patrol, was at one time Alfred's direct political opponent. In 2001, Ted, whose complete name is Mario Teodoro Failon Etong, ran, and won, as representative of the first district of Leyte, beating Alfred.
Sounding more cautious, Cristina continues, "Maybe there was a certain network, there was, ah, certain people giving wrong information, ganyan, na wala na si Mayor, nawawala.
"I guess there are some emcees in Channel 2, na sila lang kinukunan kung saan man sila, pero kami [hindi].
ADVERTISEMENT - CONTINUE READING BELOW
"So I came here to correct it also."
The other three reasons she gives for flying to Manila are: "Number one, I brought my kids here.
"Number 2, nagpapakita naman ako para mawala yung kuwento na nawawala kami, tapos hindi kami tumutulong."
She says that she brought pictures to prove their detractors wrong, but she does not leave any with PEP.
"Alam ng mga tao dun we were there, we were walking with them, sama-sama kami."
And, finally, "to give support to the people who are fundraising."
In the coming days, she says she plans to send thank-you messages to all the local celebrities who have been donating and raising funds for the victims of super typhoon Yolanda (international name Haiyan).
"I wanna thank them all, kung sino man yun. Pasasalamatan ko sila."
She also wants to thank the Winaray and Taclobanan who reside in Metro Manila and have been volunteering with the packing of relief goods.
She's touched by "the love, the sharing, and the Filipino custom, yung Bayanihan custom, ng tulung- tulong."
PEP asks Cristina what she wants to say to her detractors.
Cristina's parting shot, "There will always be detractors.
"But for me, all I care about is help the victims.
"Huwag na tayong mag-isip ng negative.
"I don't want negative words about anyone, about anything.
"So, for me, it's really helping more of the people in need, the people who need help.
"Grabe na nga nangyari, magtsi-tsismis ka pa."