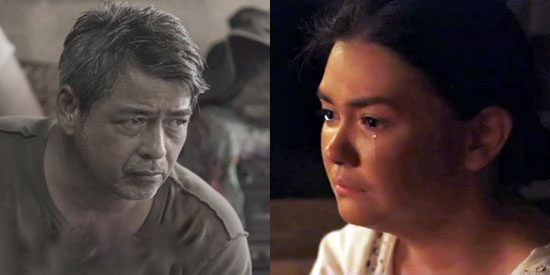 ---
Angelica Panganiban and Joel Torre were big winners at the recent Cinema One Originals film festival.
The annual event's awarding ceremony was held last night, November 16, at ABS-CBN's Dolphy Theater, inside the Kapamilya complex, in Quezon City.
Angelica won the Best Actress award for her performance as a woman with a tragic past in Adolfo Alix Jr's Alamat ni China Doll.
In her speech, Angelica noted that the film was her first indie movie: "Wala talaga akong alam sa paggawa ng ganitong pelikula."
The Kapamilya actress also said that she is thankful for the trophy, and that she now understands how different indie filmmaking is from her usual commercial fare.
Joel Torre, for his part, won for his gritty performance as a family man who turns to crime, in Borgy Torre's Kabisera.
Joel's acceptance speech was peppered with funny moments.
The seasoned actor told the audience that he initally did not want to accept the role because it was too complex for him, but said he couldn't refuse because the director is his nephew.
Both films are part of the Plus category of Cinema One Originals film festival.
For the Currents category, the top acting awards went to Vivian Velez for Bendor, and the trio of Rayver Cruz, Matteo Guidicelli, and Joseph Marco for Saturday Night Chills.
Vivian thanked her director, Ralston Jover, for teaching her how to play Blondie, a vendor of an illegal abortifacient in Quiapo.
"Direk, salamat at hindi mo ko binitawan hanggang di ako naging siya," she said.
ADVERTISEMENT - CONTINUE READING BELOW
Meanwhile, Rayver, Matteo, and Joseph were giddy with excitement when they got their award.
The three shared the same sentiment: it is the first acting award for each of them, and they admitted to being overwhelmed with joy.
"Grabe, ganito pala makaranas ng award," Rayver said for the three of them.
SPECIAL CITATIONS. Tribute awards were also given to two luminaries of Philippine cinema—veteran, comebacking director Elwood Perez and steadfast movie producer Lily Monteverde.
Perez was behind some of the most marked skin flicks in Filipino cinema, such as Shame (1983) and Silip (1985).
In his acceptance speech, Elwood thanked Cinema One for the distinction.
"Thank you to all. This place is throbbing with love," he said.
Mother Lily was also given a citation for producing many classics of Filipino cinema, through her family-owned Regal Films.
These include Ishmael Bernal's Manila By Night (1980), Joey Gosiengfiao's Temptation Island (1980), and Peque Gallaga's Scorpio Nights (1985).
"This award encourages me to keep producing," Mother Lily said in her acceptance speech.
TECHNICAL AWARDS. The Best Picture award went to Alamat ni China Doll for the Plus category, and to Bukas Na Lang Sapagkat Gabi Na for the Currents category.
Adolfo Alix Jr.'s Alamat ni China Doll won six awards in all, including those for Best Sound, Best Music, Best Editing, and Best Cinematography.
Jet Leyco's Bukas Na Lang Sapagkat Gabi Na also won the Best Screenplay award.
Best Director awards went to Borgy Torre for Kabisera in the Plus category, and Arnel Mardoquio for Riddles of My Homecoming for the Currents category.
ADVERTISEMENT - CONTINUE READING BELOW
Here is the full list of awardees:
Plus category
Best Picture: Alamat ni China Doll
Best Director: Borgy Torre for Kabisera
Best Actor: Joel Torre for Kabisera
Best Actress: Angelica Panganiban for Alamat ni China Doll
Best Supporting Actor: Peque Gallaga for Woman of the Ruins
Best Supporting Actress: Bing Pimentel for Kabisera
Best Screenplay: Mes de Guzman for Sitio
Best Cinematography: Albert Banzon for Alamat ni China Doll
Best Editing: Charliebebs Gohetia for Alamat ni China Doll
Best Production Design: Marielle Hizon for Blue Bustamante
Best Music: Lav Diaz for Alamat ni China Doll
Best Sound: Mark Locsin, Dante Cuanico, Mike Idioma and Alex Tomboc for Alamat ni China Doll
Jury Prize: Sitio
Currents category
Best Picture: Bukas Na Lang Sapagkat Gabi Na
Best Director: Arnel Mardoquio for Riddles of My Homecoming
Best Actor: Rayver Cruz, Matteo Guidicelli and Joseph Marco for Saturday Night Chills
Best Actress: Vivian Velez for Bendor
Best Supporting Actor: David Chua for Saturday Night Chills
Best Supporting Actress: Anna Luna for Bendor
Best Screenplay: Jet Leyco and Norman Wilwayco for Bukas Na Lang Sapagkat Gabi Na
Best Cinematography: Arbi Balbuena for Riddles of My Homecoming
Best Editing: Dempster Samarista for Saturday Night Chills
Best Production Design: Perry Dizon for Riddles of My Homecoming
Best Music: Gauss Obenza for Riddles of My Homecoming
Best Sound: Mikko Quizon for Islands
Jury Prize: Riddles of My Homecoming