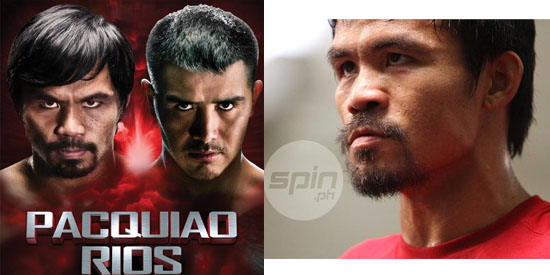 ---
Manny Pacquiao could earn as much as $30 million, says Top Rank's Bob Arum, founder and chief executive officer of Top Rank, a professional boxing promotion company based in Las Vegas.
In an interview with Forbes.com, the promoter says Pacman has a "guaranteed $11 million, plus another $7 million" pay check. The latter is for Manny's own MP Promotions.
Brandon Rios is "guaranteed $4 million."
But the bulk of the Filipino boxer/politician's income will come from the pay-per-view audience which could possibly generate as high as "$30 million," says Arum.
Hence, sports business writer Kurt Badenhausen of forbes.com deduced that Manny's career earnings, including his endorsements, could possibly reach "$300 million."
He wrote:
The Rios fight will be Pacquiao's 18th PPV bout. The first 17 generated 12 million buys and $650 million in revenue.
His past nine PPV fights averaged a little over one million buys, and Arum says he is "optimistic" that the Rios fight will reach one million.
It is unlikely Pacquiao will net Arum's potential $30 million figure from the fight, as his only previous fight at that level was round three against Marquez that garnered 1.45 million PPV buys.
But a total payday of at least $20 million will push Pacquiao's total career earnings to $300 million, including endorsements.
Income projection could have been higher if not for the "limited satellite and cable systems in China."
But choosing Macau as venue worked to Manny's favor since tax is much lower—12% versus 39.6% federal rate in the U.S.
Next year, Arum is eyeing two fights for Manny—one in Macau and one in the U.S.
ADVERTISEMENT - CONTINUE READING BELOW