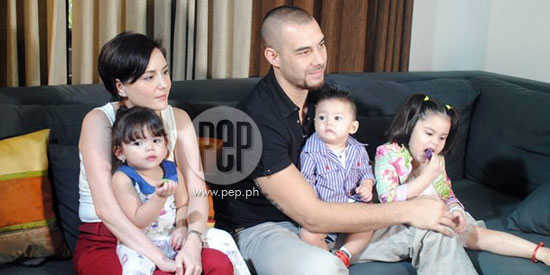 ---
The Kramer household was abuzz on the day of our visit: Yayas hovering and attending to the needs Kendra, Scarlett and Gavin. Parents Douglas and Cheska Kramer preparing themselves for the PEPtalk interview while keeping an eye on their kids.
Settling down finally in their cosy living room, Mr. and Mrs. Kramer openly answered, providing details even, every question asked them by PEPtalk hosts Rommel Llanes and Rizza Benedicto.
First off, how do Doug and Cheska maintain their youthful looks given the daily grind of their work?
"I guess we have a happy life," answered Cheska. "We also do take care of ourselves for our children so that we can be healthy for them."
Have there been instances when women come up to Doug and flirt with him?
"I must say that I'm fortunate that I've never experienced that," Cheska said. "There are no women that try to hit on him. They're more interested in the family."
Doug added, "Ever since I got married, I'd rather just stay home with my wife and kids."
Have they ever fought in the ten years that they're together?
"Couples fight," Doug said. "We have our fair share of fights… but our fights, we never went beyond one night. By the time the morning comes, we learn from it and we move on."
Watch and know more about #teamkramer on our video special: PEPtalk with Team Kramer now!