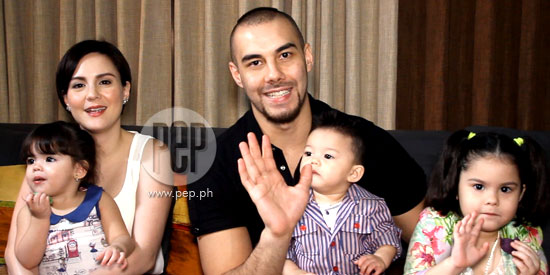 ---
Team Kramer is all the rage!
A single photo of Doug and Cheska Kramer's family can launch hundreds of thousands views.
The surge in popularity, says the cager, is "unbelievable."
For the mestiza actress's part, it is like having "a reality show, but we just have pictures and short videos."
Initially, Doug says his wife Cheska had qualms about joining Twitter.
He reveals the reason via the second episode of PEPtalk: "Ayaw ko, baka wala mag-follow sa akin!"
But after the Twitter acount @chekakramer, which was created by Doug, began generating positive responses from its followers, "From there, I saw that there are a lot of people who actually interested... It is actually very surprising to see that it started to grow really fast."
Subsequently, Team Kramer was born.
Doug tells PEP.ph (Philippine Entertainment Portal) that a fan 's Facebook post helped him coin the term and the moniker of his kids: Superstar Kendra, Scarlett Doll, and Gavincredible.
Smiling, he remarks, "You really see the interaction. That's where we saw how much the fans really wanted to interact with us."
SOCIAL MEDIA FOR A CAUSE. But more than being popular, Doug wants to put his family's influence in social media to good use, particularly, in raising awareness after the onslaught of typhoon Yolanda.
"We wanted sana for Makat Med na makapaglagay ng mobile hospital [sa Tacloban]. In three days, I think we reached 11,000 signatures."
"The feedback was really good. So we see na we can use our influence not just for advertisers or whatever. That's really nothing comparfed to being an influence, a better influence towards society, di ba."
And how do they deal with the bashers? Watch PEPtalk with Team Kramer!