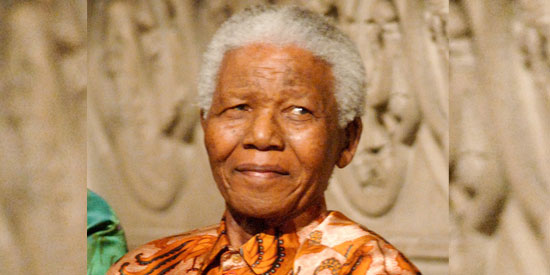 ---
Stars have rushed to pay tribute to Nelson Mandela after he passed away today, December 5 (South African time).
The South African activist and former president died at the age of 95 at his home in Johannesburg, South Africa, surrounded by his family.
Mandela was for millions a symbol of hope and freedom following his battle to overcome apartheid in South Africa and win equal rights for black people, which saw him jailed between 1962 and 1990.
Just hours before his passing, a Royal Premiere was held in London for the film Mandela: Long Walk to Freedom, based on Mandela's 1994 autobiography, starring Idris Elba as Mandela.
Speaking at the event, Idris told ITV news: "I think he means freedom and forgiveness. I think Mandela's legacy for me is forgiveness."
His co-star Naomie Harris, who portrays Nelson's wife, Winnie Mandela, added:
"He is an incredible individual who, despite having 27 years of his life taken away, still has compassion, understanding and forgiveness when he came out of prison. That's just extraordinary. It is healing for South Africa and the world as well."
Current South African President Jacob Zuma broke the news of Mandela's death, saying: "Our nation has lost its greatest son. Our people have lost a father."
Political leaders were quick to offer their sympathies.
US President Barack Obama gave a TV address, where he said Mandela had "achieved more than could be expected of any man."
He continued: "We've lost one of the most influential, courageous and profoundly good human beings that any of us will share time with.
"I cannot fully imagine my own life without the example set by Nelson Mandela."
UK Prime Minister David Cameron said: "A great light has gone out in the world. Nelson Mandela was a hero of our time."
Many stars have also been moved to pay tribute to the political icon.
ADVERTISEMENT - CONTINUE READING BELOW
Simon Cowell tweeted: "So sad to hear about Nelson Mandela. Rest in peace."
Black Eyed Peas singer Fergie wrote: "Meeting Nelson Mandela at his house in Johannesburg was a truly memorable moment in life for me. He was an angel."
Actor Samuel L. Jackson said: "Never met a better person in my life than Nelson Mandela. My sympathy to his family & his country."